Nutritional status of pediatric patients with epidermolysis bullosa. A cross-sectional study.
Nutritional status in epidermolysis bullosa.
Palabras clave:
epidermolysis bullosa, pediatrics, malnutrition, nutritional status
Resumen
Epidermolysis bullosa (EB) is a genetic disorder with continuous formation of blisters and erosions in the skin and mucous membranes as well as multi-systemic involvement. Patients are at high-risk of malnutrition due to decreased food intake and increased nutrient demand. This cross-sectional retrospective study evaluated the daily caloric intake and nutritional status of pediatric patients with EB at a specialized clinic through anthropometric measurements and estimation of the daily intake by 24-hour dietary recall. We used the Waterlow and World Health Organization (WHO) malnutrition classification schemes. Descriptive statistics were used. We included 17 patients with a mean age of 8.4 years (SD 4.6), 82.3% had malnutrition. Those with more severe subtypes, junctional and recessive dystrophic EB, had acute superimposed on chronic malnutrition (100% and 63.4%), wasting (100% and 72.6%), and stunting (0% and 54.4%) more frequently, respectively. Most patients required supplementation (caloric 76.4% and vitamin/mineral 100%).
We concluded that there is a high frequency of malnutrition in our EB patients. Although their energy requirements is calculated to be increased in 100-150% of the estimate, our patients only reach 73.1% of that, thus requiring supplementation. Patients with more severe subtypes of EB had chronic malnutrition more frequently. Even though malnutrition is closely linked to wound healing and adequate growth and development of patients, there are few studies about nutrition in EB worldwide. We believe evaluating the nutritional status of these patients is the first step to identifying deficiencies, offering adequate comprehensive medical care and establishing nutritional interventions in a timely manner.
Citas
Fine JD, Bruckner-Tuderman L, Eady R, Bauer EA, Bauer JW, Has C, et al. Inherited Epidermolysis Bullosa: Updated Recommendations on Diagnosis and Classification. J Am Acad Dermatol 2014;70(6):1103-1126.
Fine JD. Epidemiology of Inherited Epidermolysis Bullosa Based on Incidence and Prevalence Estimates From the National Epidermolysis Bullosa Registry. JAMA Dermatol 2016;152(11):1231-1238
Haynes L. Nutrition for children with epidermolysis bullosa. Dermatol Clin. 2010;28:289-301.
Zidorio AP, Dutra ES, Leão DO, Costa IM. Nutritional aspects of children and adolescents with epidermolysis bullosa: literature review. An Bras Dermatol 2015;90:217-223
Salera S, Tadini G, Rossetti D, Grassi FS, Marchisio P, Agostoni C, et al. A nutrition-based approach to epidermolysis bullosa: Causes, assessments, requirements and management. Clin Nutr 2019; pii: S0261-5614(19)30077-9
World Health Organization. 2006. WHO Child Growth Standards. [online]. Available at: https://www.who.int/childgrowth/standards/en/ [Accessed October 2019].
Center for Disease Control and Prevention. 2016. CDC Child Growth Standards. [online]. Available at: https://www.cdc.gov/growthcharts/cdc_charts.htm [Accessed October 2019].
Mehta NM, Corkins MR, Lyman B, Malone A, Goday PS, Carney LN, et al. Defining pediatric malnutrition: a paradigm shift toward etiology-related definitions. JPEN J Parenter Enteral Nutr 2013;37:460-481.
Reimer A, Hess M, Schwieger-Briel A, Kiritsi D, Schauer F, Schumann H, et al. Natural history of growth and anaemia in children with epidermolysis bullosa: a retrospective cohort study [published online ahead of print, 2019 Sep 5]. Br J Dermatol 2019;10.1111/bjd.18475.
Martinez AE, Allgrove J, Brain C. Growth and pubertal delay in patients with epidermolysis bullosa. Dermatol Clin 2010; 28:357–359, xii.
Kim KY, Namgung R, Lee SM, Kim SC, Eun HS, Park MS, et al. Nutritional outcomes in children with epidermolysis bullosa: the experiences of two centers in Korea. Yonsei Med J 2014;55:264-269.
Sousa MC, Paula CD, Tauil PL, Costa IM. Correlation between nutritional, hematological and infectious characteristics and classification of the type of epidermolysis bullosa of patients assisted at the Dermatology Clinic of the Hospital Universitário de Brasília. An Bras Dermatol 2015;90(6):922-924
Haynes L. 2007. Clinical practice guidelines for nutrition support in infants and children with epidermolysis bullosa including THINC (Tool to Help Identify Nutritional Compromise in EB). Great Ormond Street Hospital. [online]. Available at: https://www.debra.org.uk/downloads/community-support/eb-clinical-practice-guidelines-nutrition-in-children-100613.pdf [Accessed June 2020].
Bobo, E. Reemergence of Blenderized Tube Feedings. Nutrition in Clinical Practice 2016;31(6), 730–735.
Pérez L.A., Palacios G.B., Castro B.A. Sistema Mexicano de Alimentos Equivalentes. 3rd ed. Fomento de Nutrición y Salud A.C.;2008.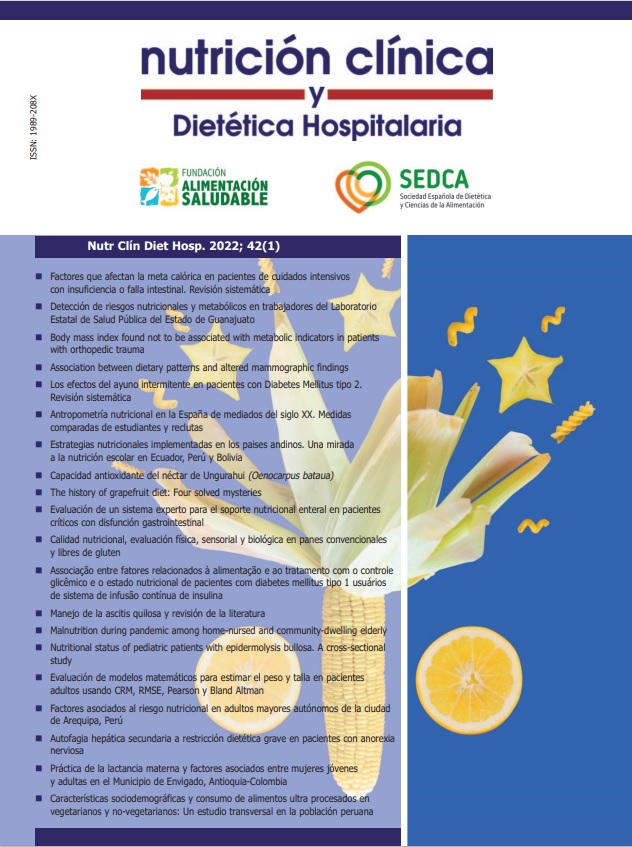 Descargas
Cómo citar
MORALES-OLVERA, D., GRIS-CALVO, J. I., & GARCÍA-ROMERO, M. T. (2022). Nutritional status of pediatric patients with epidermolysis bullosa. A cross-sectional study. : Nutritional status in epidermolysis bullosa . Nutrición Clínica Y Dietética Hospitalaria, 42(01). https://doi.org/10.12873/421garcia-romero
Sección
Colaboración corta
Licencia
Derechos de autor 2022 Nutrición Clínica y Dietética Hospitalaria
Esta obra está bajo una licencia internacional Creative Commons Atribución-NoComercial-SinDerivadas 4.0.
Los lectores pueden utilizar los textos publicados de acuerdo con la definición BOAI (Budapest Open Access Initiative)