Evaluación del riesgo nutricional en ancianos institucionalizados en una Institución Privada de Solidaridad Social del municipio de Vila Real, Portugal.
Palabras clave:
Evaluación nutricional; desnutrición; anciano
Resumen
La desnutrición en los ancianos no solo es común, sino que a menudo se pasa por alto, lo que puede provocar múltiples complicaciones médicas, ingresos hospitalarios e incluso la muerte.
Objetivo: El objetivo de este estudio fue evaluar el riesgo nutricional en ancianos institucionalizados en una Institución Privada de Solidaridad Social en el municipio de Vila Real.
Material y métodos: La muestra está compuesta por 55 adultos mayores, con edades entre 65 y 101 años (84,69 ± 8,303 años). Veinte son hombres y treinta y cinco son mujeres. La prevalencia de desnutrición y riesgo de desnutrición se obtuvo a través de medidas antropométricas peso y talla, para calcular el Índice de Masa Corporal (IMC), circunferencia del brazo y circunferencia geminal y aplicando el cuestionario Mini Nutritional Assessment (MNA).
Resultados: Los hombres tenían mayor peso y talla que las mujeres (p<0,05). Las evaluaciones del IMC no mostraron diferencias estadísticamente significativas entre los sexos. De los ancianos evaluados, 18,1% estaban desnutridos, 45,5% en riesgo de desnutrición. Correlacionando los puntajes obtenidos en el MNA con el factor clásico de desnutrición IMC, hubo una correlación negativa débil significativa (p=0,002).
Conclusión: El riesgo de desnutrición fue alto entre los ancianos de la muestra, con 63,6% de la muestra mostrando signos de desnutrición o riesgo de desnutrición. El MNA demostró ser una herramienta útil en el diagnóstico del riesgo de desnutrición. Es de suma importancia que las instituciones estén preparadas para realizar un diagnóstico temprano del estado nutricional que permita una adecuada intervención y seguimiento nutricional.
Citas
Volkert D, Beck AM, Cederholm T, Cruz-Jentoft A, Goisser S,
Hooper L, Kiesswetter E, Maggio M, Raynaud-Simon A, Sieber CC,
Sobotka L, van Asselt D, Wirth R, Bischoff SC. ESPEN guideline on
clinical nutrition and hydration in geriatrics. Clin Nutr. 2019;
(1):10-47. doi: 10.1016/j.clnu.2018.05.024.
Rodríguez-Sánchez B, Sulo S, Carnicero JA, Rueda R, RodríguezMañas L. Malnutrition Prevalence and Burden on Healthcare
Resource Use Among Spanish Community-Living Older Adults:
Results of a Longitudinal Analysis. Clinicoecon Outcomes Res.
;12:355-367. doi:10.2147/CEOR.S256671
Silva Nde A, Pedraza DF, de Menezes TN. Physical performance
and its association with anthropometric and body composition
variables in the elderly. Cien Saude Colet. 2015;20(12):3723-32.
doi: 10.1590/1413-812320152012.01822015.
Slee A, Birch D, Stokoe D. A comparison of the malnutrition
screening tools, MUST, MNA and bioelectrical impedance assessment in frail older hospital patients. Clin Nutr. 2015;34(2):296-
doi: 10.1016/j.clnu.2014.04.013.
Pereira C, da Silva RA, de Oliveira MR, Souza RD, Borges RJ &
Vieira ER. Effect of body mass index and fat mass on balance
force platform measurements during a one-legged stance in older
adults. Aging Clin Exp Res 30, 441–447 (2018). https://doi.org/
1007/s40520-017-0796-6
Nestlé Nutrition Institute. Um Guia para completar a Mini
Avaliação Nutricional. 2009.
Bernardo SC. Estado nutricional dos idosos que frequentam os
centros de dia e centros de convívio do concelho de Paços de
Ferreira. Dissertação de Mestrado. Faculdade de Ciências da
Nutrição e Alimentação da Universidade do Porto. 2013.
Rodrigues E & Amaral T. Avaliação do Estado Nutricional de Idosos
Utentes dos Lares e Centros de Dia. Nutrícias. 2011; 11, 36-8.
Izawa S, Kuzuya M, Okada K, Enoki H, Koike T, Kanda S, Iguchi
A. The nutritional status of frail elderly with care needs according
to the mini-nutritional assessment. Clin Nutr. 2006;25(6):962-
doi: 10.1016/j.clnu.2006.05.006.
Carrière I, Delcourt C, Lacroux A, Gerber M; POLANUT Study
Group. Nutrient intake in an elderly population in southern France
(POLANUT): deficiency in some vitamins, minerals and omega-3
PUFA. Int J Vitam Nutr Res. 2007;77(1):57-65. doi: 10.1024/
-9831.77.1.57.
Mavrommatis Y, Moynihan PJ, Gosney MA, Methven L. Hospital
catering systems and their impact on the sensorial profile of
foods provided to older patients in the UK. Appetite.
;57(1):14-20. doi: 10.1016/j.appet.2011.03.010.
Santos FS & Mintem GC. Perfil antropométrico e risco cardiovascular de idosos institucionalizados na cidade de Pelotas. J. Health
Biol Sci. 2015;3(4):195-201. doi: 10.12662/2317-3076jhbs.v3i4.
Jerez-Roig J, Sousa DLB, Andrade FLJP, Lima Filho BF, Medeiros
RJ, Oliveira NPD, et al. Autopercepção da saúde em idosos institucionalizados. Ciênc. saúde coletiva, Rio de Janeiro. 2016;
(11): 3367-3375. https://doi.org/10.1590/1413-8123201521
15562015
Volpini MM & Frangella VS. Avaliação nutricional de idosos institucionalizados. Einstein, São Paulo. 2013; 11(1): 32-40.
https://doi.org/10.1590/S1679-45082013000100007
Cantarelli L, Blumke AC, Marques AC & Colpo E. Análise do perfil
alimentar e nutricional de idosos residentes em Instituição de
Longa Permanência. Revista da AMRIGS, Porto Alegre. 2013;
(2).
Stewart A, Marfell-Jones M, Olds T & Ridder H. International
Standards for Anthropometric Assessment. Lower Hutt, New
Zealand: International Society for the Advancement of
Kinanthropometry. 2011. ISBN: 0620362073 9780620362078
Loureiro MHVS. Validação do "Mini-nutricional Assessment" em
idosos. Dissertação do Mestrado em Nutrição Clínica. Faculdade
de Medicina da Universidade de Coimbra. 2008. Disponível em
http://hdl.handle.net/10316/10439
Morley JE. Assessment of malnutrition in older persons: a focus
on the MNA. The Journal of Nutrition, Health & Aging. 2011;
(2): 87-90.
Poínhos R, Oliveira BMPM, Sorokina A, Franchini B, Afonso C, de
Almeida MDV. An extended version of the MNA-SF increases sensitivity in identifying malnutrition among community living older
adults. Results from the PRONUTRISENIOR project. Clin Nutr ESPEN. 2021; 46: 167-172. doi: 10.1016/j.clnesp.2021.10.018.
Bauer JM, Kaiser MJ, Sieber CC. Evaluation of nutritional status in
older persons: nutritional screening and assessment. Curr Opin
Clin Nutr Metab Care. 2010 Jan;13(1):8-13. doi: 10.1097/MCO.0b
e32833320e3. PMID: 19851099.
Tavares EL, Santos DM, Ferreira AA, Menezes MFG. Avaliação nutricional de idosos: desafios da atualidade. Revista Brasileira de
Geriatria e Gerontologia. 2015; 18(3): 643-650. https://doi.org/
1590/1809-9823.2015.14249
Ordem dos Nutricionistas. Guia Orientador "Intervenção do nutricionista em estabelecimentos de apoio social para pessoas idosas". GO 01/2021. Versão 01. Porto: Departamento da Qualidade,
Ordem dos Nutricionistas; 2021. Disponível em: www.ordemdosnutricionistas.pt
Bauer JM, Kaiser MJ, Anthony P, Guigoz Y, Sieber CC. The Mini
Nutritional Assessment—its history, today's practice, and future
perspectives. Nutr Clin Pract. 2008;23(4):388-96. doi: 10.1177/
Mesas A, Andrade S, Cabrera M, Bueno V. Salud oral y deficit nutricional en adultos mayors no institucionalizados en Londrina,
Paraná, Brasil. Rev. bras. epidemiol. 2010; 13(3):434-45.
https://doi.org/10.1590/S1415-790X2010000300007
Madeira T, Peixoto-Plácido C, Sousa-Santos N, Santos O, Costa J,
Alarcão V, Nicola PJ, Severo M, Lopes C, Clara JG. Association between living setting and malnutrition among older adults: The
PEN-3S study. Nutrition. 2020;73:110660. doi: 10.1016/j.nut.20
110660.
Cuervo M, García A, Ansorena D, Sánchez-Villegas A, MartínezGonzález M, Astiasarán I, Martínez J. Nutritional assessment interpretation on 22,007 Spanish community-dwelling elders
through the Mini Nutritional Assessment test. Public Health Nutr.
;12(1):82-90. doi: 10.1017/S136898000800195X.
Han Y, Li S, Zheng Y. Predictors of nutritional status among community-dwelling older adults in Wuhan, China. Public Health Nutr.
;12(8):1189-96. doi: 10.1017/S1368980008003686.
Bezerra JT, de Melo NE, Coelho PBP, Dias C de A, de Andrade MIS,
Me Mpomo JSV de M. Fatores associados ao risco nutricional e
desfechos clínicos em pacientes cirúrgicos não-oncológicos de um
hospital universitário no nordeste brasileiro. Nutr Clín Diet Hosp.
;41(3). https://doi.org/10.12873/413bezerra
Cárdenas-Quintana H, Machaca-Hilasaca M, Roldán-Arbieto L,
Muñoz Del Carpio Toia Águeda, Figueroa Del Carpio V. Factores
asociados al riesgo nutricional en adultos mayores autónomos de
la ciudad de Arequipa, Perú. Nutr Clín Diet Hosp. 2022; 42(1):
-168. DOI: 10.12873/421cardenas
Giraldo-Giraldo NA, Estrada-Restrepo A, Agudelo-Suarez AA.
Malnutrición y su relación con aspectos de salud en adultos mayores. Nutr Clín Diet Hosp. 2019; 39 (2):156-164. DOI: 10.128
/392giraldo
Oliveira RCS, Soares BLM, Maio R, Santos AMS, Burgos MGPA.
Associações do Risco nutricional com tempo de internamento e
complicações hospitalares: estudo em pacientes de ginecologiado
NE do Brasil. Nutr Clín Diet Hosp. 2020; 40(4):77-83. DOI:
12873/404goretti
Heo M, Allison DB, Faith MS, Zhu S, Fontaine KR. Obesity and
quality of life: mediating effects of pain and comorbidities. Obes
Res. 2003;11(2):209-16. doi: 10.1038/oby.2003.33.
Nam S, Kuo YF, Markides KS, Al Snih S. Waist circumference
(WC), body mass index (BMI), and disability among older adults
in Latin American and the Caribbean (LAC). Arch Gerontol Geriatr.
;55(2):e40-e47. doi:10.1016/j.archger.2012.04.006
Previato HDRA, Dias APV, Nemer ASA, Nimer M.Associação entre
índice de massa corporal e circunferência da cintura em idosas,
Ouro Preto, Minas Gerais, Brasil Nutr Clín Diet Hosp. 2014;
(1):25-30 DOI: 10.12873/341previato
Ferreira MJLL. Carências nutritivas no idoso. Trabalho final de licenciatura. Escola Superior de Educação João de Deus. Lisboa.
Vedantam A, Subramanian V, Rao NV, John KR. Malnutrition in
free-living elderly in rural south India: prevalence and risk factors.
Public Health Nutr. 2010;13(9):1328-32. doi: 10.1017/S13689800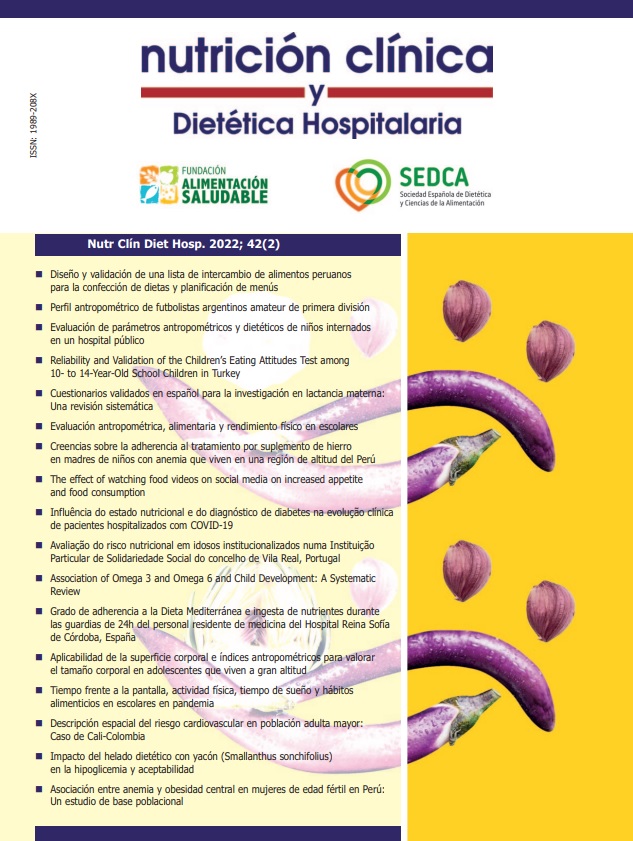 Descargas
Cómo citar
FONSECA, S., CARVALHO, S., AFONSO, C., & TEIXEIRA SANTOS, M. C. (2022). Evaluación del riesgo nutricional en ancianos institucionalizados en una Institución Privada de Solidaridad Social del municipio de Vila Real, Portugal. Nutrición Clínica Y Dietética Hospitalaria, 42(2). https://doi.org/10.12873/422fonseca
Sección
Artículos originales
Licencia
Derechos de autor 2022 Nutrición Clínica y Dietética Hospitalaria
Esta obra está bajo una licencia internacional Creative Commons Atribución-NoComercial-SinDerivadas 4.0.
Los lectores pueden utilizar los textos publicados de acuerdo con la definición BOAI (Budapest Open Access Initiative)