Evaluación de la conducta alimentaria de estudiantes universitarios durante el período de cuarentena durante el período pandémico de COVID-19
Comportamiento nutricional durante el período pandémico
Palabras clave:
COVID-19, quarantine, eating disorder, emotional stress
Resumen
RESUMEN
Objetivo: Este estudio se realizó con el fin de evaluar los efectos del estrés en la conducta alimentaria en casos de incertidumbre experimentados durante el período de cuarentena de COVID-19.
Métodos: Participaron en el estudio trescientos ochenta y seis estudiantes universitarios. Se registraron datos demográficos (edad, sexo), medidas antropométricas (peso corporal, altura) y la información de la facultad de educación. El cuestionario holandés de comportamiento alimentario (DEBQ) se utilizó para evaluar los comportamientos alimentarios de los participantes. Se registraron y compararon el peso corporal (BW), el índice de masa corporal (IMC), el aumento de peso corporal y la puntuación DEBQ de los participantes antes y después de la cuarentena aplicada durante el período de la pandemia de COVID-19.
Resultados: En el estudio, 203 (52,6%) de los participantes eran mujeres, 183 (47,4%) eran hombres; La edad media fue de 21,9 ± 1,7 años. Se observó un aumento significativo en el peso corporal y el IMC de los participantes en el período posterior a la cuarentena en comparación con el período previo a la cuarentena (p = 0,00). Durante el período de cuarentena, se encontró un aumento significativo en las puntuaciones medias de las tres subescalas de DEBQ, "Alimentación restringida, emocional y externa", en comparación con los promedios previos a la cuarentena (p = 0,00).
Sonuçlar: El cambio en la Conducta alimentaria relacionado con el estrés desencadena la formación de estrés repetitivo ya que puede afectar negativamente la salud del individuo. Para yok hayır entrar en este círculo vicioso; las personas deben ser conscientes de que pueden ocurrir ataques de alimentación relacionados con el estrés durante el proceso de cuarentena y prevenir los ataques. Darse cuenta ve aceptar la situación lo antes posible hace que sea fácil sobrellevar este período tanto física como psicológicamente.
Citas
REFERENCES
World Health Organization (WHO). Accessed on February 21, 2020. Availablefrom: http://www.who.int
Arlı M, Şanlıer N, Küçükkömürler S, Yaman M. Maternal and child nutrition. Pegem Academy. 2017; 43-44.
Baysal A Nutrition, 11th Edition, Ankara, Hatiboğlu Printing and Publishing House; 2007.
Konttinen H (2012) Dietary habits and obesity: The role of emotional and cognitive factors. (Academic Dissertation, Helsinki University of Social Research Department), Finland, 2012.
Zeybek, A. Evaluation of emotional eating and body composition of individuals applying to a private nutrition and diet clinic, Haliç University Institute of Health Sciences, Master Thesis, Istanbul. 2019.
Unal, S.G. Emotional Eating and Obesity, Başkent University Faculty of Health Sciences Journal. 2018; 2 (2), 30-47.
Wardle J, Steptoe A, Oliver G, Lipsey Z. Stress, dietary restraint and food intake. Journal of Psychosomatic Research. 2019; 48 (2): 195-202
Sominsky, L., Spencer, S.J. Eating behavior and stress: a pathway to obesity, Frontiers in Psychology.2014; 5: 434.
Baltaş A, Baltaş, Z. Stress and Ways to Cope. 15th edition. Istanbul: Remzi Publishing House; 1996.
Ağaçdiken Alkan S., Özdelikara A., Mumcu Boğa N. Determining the eating attitude of nursing students, Journal of Education and Research in Nursing.2016; 13 (3): 250-257.
Sevinçer, G.M., Konuk, N. Emotional Eating, Journal of Mood Disorders. 2013; 3 (4): 171-8.
Frayn M., Knauper B. Emotional Eating and Weight in Adults: a Review. Current Psychology. 2017; 37 (4): 924-933.
İnalkaç, S., Arslantaş, H. Emotional Eating, Archive Literature Review Journal. 2018; 27 (1): 70-82.
Van Strien T, Frijters JE, Roosen RG, Knuiman-Hijl WJ, Defares PB Eating behavior, personality traits and body mass in women. Addict Behav. 1985; 10 (4): 333-43.
Bozan N, Bas M, Asci FH. Psychometric properties of Turkish version of Dutch Eating Behavior Questionnaire (DEBQ). A preliminary results. Appetite. 2011; 56 (3): 564-66
Altıntaş, M., Özgen, U. The effect of personality structure on eating styles Personality, International Journal of Social Sciences and Education Research. 2017; 3 (5).
Gibson, L.E. Emotional influences on food choice: sensory, physiological and psychological pathways, Physiol Behav. 2006; 89 (1): 53-61.
Scott C, Johnstone A.M (2012) Stress and eating behavior: implications for obesity, Obesity facts. 2012; 5 (2): 277-87.
Foss, B., Dyrstad, S.M. Stress in obesity: Cause or consequence ?, Medical Hypotheses.2011; 77 (1): 7-10.
Stewart-Knox, B.J. Eating and stress at work: The need for public health promotion intervention and an opportunity for food product development?, Trends In Food Science & Technology.2014; 35 (1): 52-60.
la Fleur S. E., Akana S. F., Manalo S. L., Dallman M. F. Interaction between corticosterone and insulin in obesity: regulation of lard intake and fat stores. Endocrinology. 2004; 145 2174--2185.
Warne J. P., Akana S. F., Ginsberg A. B., Horneman H. F., Pecoraro N. C., Dallman M. F. Disengaging insulin from corticosterone: roles of each on energy intake and disposition. Am. J. Physiol. Regul. Integr. Comp. Physiol. 2009; 296 R1366-R1375.
Foster M. T., Warne J. P., Ginsberg A. B., Horneman H. F., Pecoraro N. C., Akana S. F., et al. Palatable foods, stress, and energy stores sculpt corticotropin-releasing factor, adrenocorticotropin, and corticosterone concentrations after restraint. Endocrinology. 2009; 150 2325--2333.
Lutter M., Sakata I., Osborne-Lawrence S., Rovinsky S. A., Anderson J. G., Jung S., et al. The orexigenic hormone ghrelin defends against depressive symptoms of chronic stress. Nat. Neurosci. 2008; 11 752--753.
Raspopow K., Abizaid A., Matheson K., Anisman H. Psychosocial stressor effects on cortisol and ghrelin in emotional and non-emotional eaters: influence of anger and shame. Horm. Behav. 2010; 58 677--684.
Sinha R Role of addiction and stress neurobiology on food intake and obesity. Biological Psychology. (in press) .. https://doi.org/10.1016/j.biopsycho.2017.05.001.
Stewart B. Eating and stress at work: The need for public health promotion intervention and an opportunity for food product development? Trends in Food Science & Technology. 2014; 35 (1): 52-60.).
Chaplin, K., Smith, A.P. Breakfast and snacks: associations with cognitive failures, minor injuries, accidents and stress, Nutrients. 2011; 3: 515--52.
Nishitani, N., Sakakibara, H., Akiyama, I. Eating behavior related to obesity and job stress in male Japanese workers, Nutrition.2009; 25 (1): 45-50.
Stough C, Simpson T, Lomas J, McPhee G, Billings C, Myers S, Downey LA Reducing occupational stress with a B-vitamin focussed intervention: a randomized clinical trial: study protocol. Nutrition Journal. 2014; 13 (1): 122.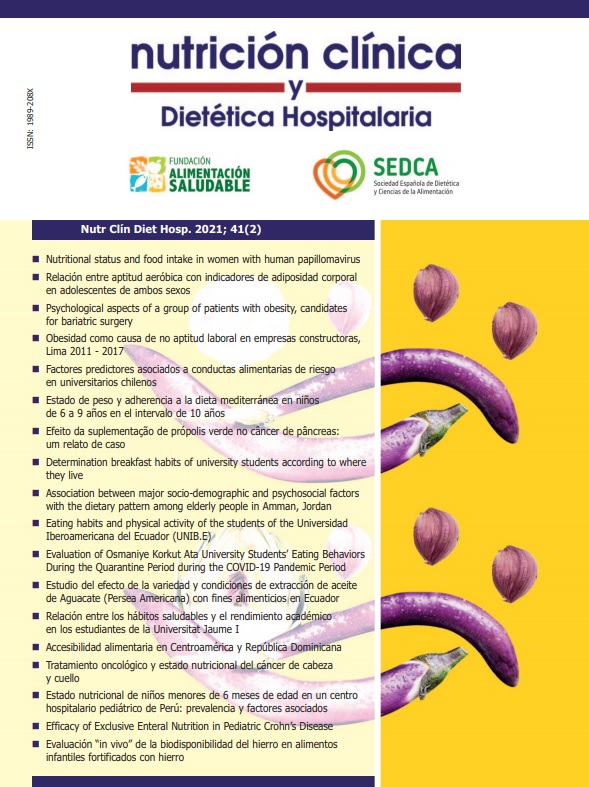 Descargas
Publicado
2021-05-09 — Actualizado el 2021-07-16
Cómo citar
Tazeoglu, A., BOZDOGAN, F. B. K., & IDIZ, C. (2021). Evaluación de la conducta alimentaria de estudiantes universitarios durante el período de cuarentena durante el período pandémico de COVID-19: Comportamiento nutricional durante el período pandémico. Nutrición Clínica Y Dietética Hospitalaria, 41(2). https://doi.org/10.12873/412tazeoglu
Sección
Artículos originales
Licencia
Derechos de autor 2021 Nutrición Clínica y Dietética Hospitalaria
Esta obra está bajo una licencia internacional Creative Commons Atribución-NoComercial-SinDerivadas 4.0.
Los lectores pueden utilizar los textos publicados de acuerdo con la definición BOAI (Budapest Open Access Initiative)