El efecto de ver videos sobre comida en las redes sociales y el aumento del apetito y el consumo de alimentos.
Palabras clave:
medios de comunicación social, IMC, estah, adulto joven
Resumen
Introducción: La mala alimentación y los malos hábitos alimentarios provocan obesidad en los jóvenes. Ver excelentes imágenes y diferentes videos de alimentos en las redes sociales (SM) puede afectar negativamente la imagen corporal y aumentar la dieta/restricción. SM puede contribuir al comportamiento de atracones al aumentar el deseo de consumir alimentos.
Método: Se aplicó un cuestionario a los estudiantes de la Universidad Osmaniye Korkut Ata entre diciembre de 2021 y enero de 2022. Se registraron los resultados de la encuesta que investigaban los datos demográficos (edad, sexo), las medidas antropométricas y el uso de las redes sociales de los estudiantes.
Resultados: Durante el estudio se contactó cara a cara a 1196 personas. Los usuarios de SM se agrupan según su estado de visualización de videos de alimentos. 875 (78,2%) de los usuarios de SM vieron videos de comida (grupo 1), 243 (21,7%) no lo hicieron (grupo 2). Hubo una diferencia estadísticamente significativa entre los grupos en términos de género, peso corporal, IMC y duración del uso de las redes sociales (p<0,001).
Discusión: Se afirma que SM cuenta con normas que fomentan la aceptación de conductas alimentarias no saludables. Abordó la relación entre las normas alimentarias percibidas comunicadas a través de SM y los hábitos alimentarios y el peso corporal de los adultos jóvenes. En este estudio, mostramos que el SM puede afectar el comportamiento alimentario y el IMC.
Conclusión: Ver vídeos de comida en SM y SM provoca un aumento de las ganas de comer y del IMC.
Citas
Arslan M., Aydemir I., Ayhan Yabancı Nurcan. Examination Of The Relationship Between Depression and Body Mass Index (BMI) Among University Students. Clin Exp Health Sci 2021; 11: 175-181. doi: 10.33808/clinexphealthsci.789597
Icen H., Günes F.E. The Relationship Between University Students' Nutritional Status, Cardio-Metabolic Biomarkers and Physical Activity Levels. Clin Exp Health Sci 2021; 11: 495-503. doi: 10.33808/clinexphealthsci.820145
Özgür M., Uçar A. Comparison of social media addiction and body perception and nutrition knowledge levels in girls students studying at university. Journal of Health Sciences. 2020; 9(2): 46-54.
Barklamb AM, Molenaar A, Brennan L, Evans S, Choong J, Herron E, Reid M, McCaffrey TA. Learning the Language of Social Media: A Comparison of Engagement Metrics and Social Media Strategies Used by Food and Nutrition-Related Social Media Accounts. Nutrients. 2020; 12(9):2839. doi: 10.3390/nu12092839.
Carpenter DM, Geryk LL, Chen AT, Nagler RH, Dieckmann NF, Han PK. Conflicting health information: a critical research need. Health Expect. 2016 Dec;19(6):1173-1182. doi: 10.1111/hex.12438. Epub 2015 Dec 28. PMID: 26709206; PMCID: PMC5139056.
Mendoza-Herrera K, Valero-Morales I, Ocampo-Granados ME, Reyes-Morales H, Arce-Amaré F, Barquera S. An Overview of Social Media Use in the Field of Public Health Nutrition: Benefits, Scope, Limitations, and a Latin American Experience. Prev Chronic Dis. 2020 Aug 6;17:E76. doi: 10.5888/pcd17.200047. PMID: 32762809; PMCID: PMC7417023.
Stirling E, Willcox J, Ong KL, Forsyth A. Social media analytics in nutrition research: a rapid review of current usage in investigation of dietary behaviours. Public Health Nutr. 2021 Apr;24(6):1193-1209. doi: 10.1017/S1368980020005248. Epub 2020 Dec 23. PMID: 33353573.
Hawkins LK, Farrow C, Thomas JM. Do perceived norms of social media users' eating habits and preferences predict our own food consumption and BMI? Appetite. 2020 Jun 1;149:104611. doi: 10.1016/j.appet.2020.104611. Epub 2020 Jan 18. PMID: 31958481.
Norman G. Likert scales, levels of measurement and the "laws" of statistics. Adv Health Sci Educ Theory Pract. 2010 Dec;15(5):625-32. doi: 10.1007/s10459-010-9222-y. Epub 2010 Feb 10. PMID: 20146096.
Rounsefell K, Gibson S, McLean S, Blair M, Molenaar A, Brennan L, Truby H, McCaffrey TA. Social media, body image and food choices in healthy young adults: A mixed methods systematic review. Nutr Diet. 2020 Feb;77(1):19-40. doi: 10.1111/1747-0080.12581. Epub 2019 Oct 3. PMID: 31583837; PMCID: PMC7384161.
Klassen KM, Douglass CH, Brennan L, Truby H, Lim MSC. Social media use for nutrition outcomes in young adults: a mixed-methods systematic review. Int J Behav Nutr Phys Act. 2018 Jul 24;15(1):70. doi: 10.1186/s12966-018-0696-y. PMID: 30041699; PMCID: PMC6057054.
Vaterlaus JM, Patten E, Roche C, Young JA. # Gettinghealthy: The perceived influence of social media on young adult health behaviors. Computers in Human Behavior, 2015, 45: 151-157. doi: 10.1016/j.chb.2014.12.013
Robinson E, Harris E, Thomas J, Aveyard P, Higgs S. Reducing high calorie snack food in young adults: a role for social norms and health based messages. Int J Behav Nutr Phys Act. 2013 Jun 5;10:73. doi: 10.1186/1479-5868-10-73. PMID: 23738741; PMCID: PMC3681563.
Robinson E, Fleming A, Higgs S. Prompting healthier eating: testing the use of health and social norm based messages. Health Psychol. 2014 Sep;33(9):1057-64. doi: 10.1037/a0034213. Epub 2013 Dec 2. PMID: 24295025.
Mollen S, Rimal RN, Ruiter RA, Kok G. Healthy and unhealthy social norms and food selection. Findings from a field-experiment. Appetite. 2013 Jun;65:83-9. doi: 10.1016/j.appet.2013.01.020. Epub 2013 Feb 10. PMID: 23402712.
Thomas JM, Ursell A, Robinson EL, Aveyard P, Jebb SA, Herman CP, Higgs S. Using a descriptive social norm to increase vegetable selection in workplace restaurant settings. Health Psychol. 2017 Nov;36(11):1026-1033. doi: 10.1037/hea0000478. Epub 2017 May 25. PMID: 28541071; PMCID: PMC5652259.
Muslu, Mücahit; Gökçay, Gülden Fatma. Teknoloji bağımlısı çocuklarda obeziteye neden olan risk faktörleri. Gümüşhane Üniversitesi Sağlık Bilimleri Dergisi, 2019, 8.2: 72-79.
Clark JL, Algoe SB, Green MC. Social Network Sites and Well-Being: The Role of Social Connection. Current Directions in Psychological Science. 2018;27(1):32-37. doi:10.1177/0963721417730833
Cruwys T, Bevelander KE, Hermans RC. Social modeling of eating: a review of when and why social influence affects food intake and choice. Appetite. 2015 Mar;86:3-18. doi: 10.1016/j.appet.2014.08.035. Epub 2014 Aug 28. PMID: 25174571.
Pelletier JE, Graham DJ, Laska MN. Social norms and dietary behaviors among young adults. Am J Health Behav. 2014 Jan;38(1):144-52. doi: 10.5993/AJHB.38.1.15. PMID: 24034689; PMCID: PMC3876876.
Zilberman, David & Kaplan, Scotts. What the Adoption Literature can teach us about Social Media and Network Effects on Food Choices, 2014 AAEA/EAAE/CAES Joint Symposium: Social Networks, Social Media and the Economics of Food, Montreal, Canada 173076, Agricultural and Applied Economics Association. 2014.
B. McFerran, D.W. Dahl, G.J. Fitzsimons, A.C. Morales. I'll have what she's having: Effects of social influence and body type on the food choices of others. Journal of Consumer Research, 2010;36:915-29. doi: 10.1086/644611.
Leahey TM, Doyle CY, Xu X, Bihuniak J, Wing RR. Social networks and social norms are associated with obesity treatment outcomes. Obesity (Silver Spring). 2015 Aug;23(8):1550-4. doi: 10.1002/oby.21074.
Leahey TM, Kumar R, Weinberg BM, Wing RR. Teammates and social influence affect weight loss outcomes in a team-based weight loss competition. Obesity (Silver Spring). 2012 Jul;20(7):1413-8. doi: 10.1038/oby.2012.18.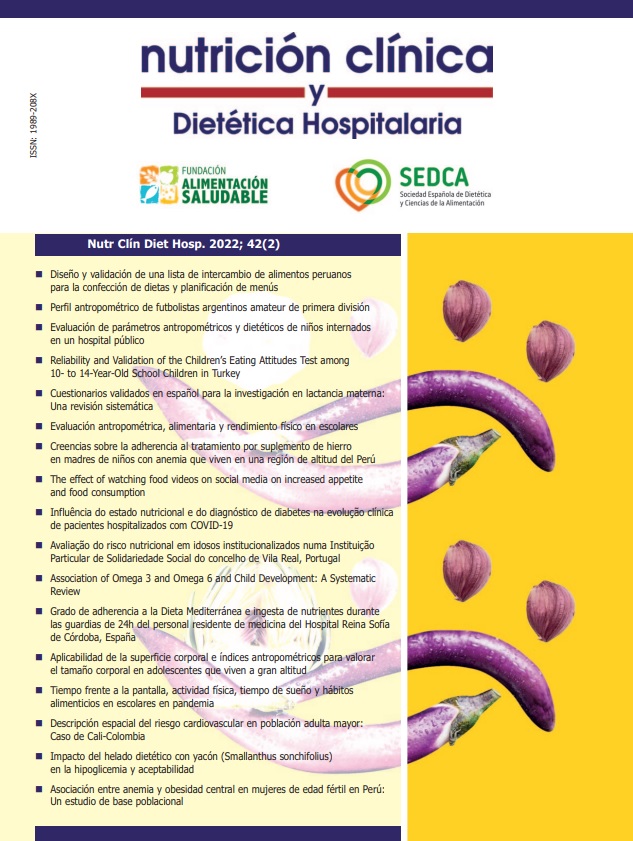 Descargas
Cómo citar
Tazeoğlu, A., & KUYULU BOZDOGAN, F. B. (2022). El efecto de ver videos sobre comida en las redes sociales y el aumento del apetito y el consumo de alimentos. Nutrición Clínica Y Dietética Hospitalaria, 42(2). https://doi.org/10.12873/422tazeoglu
Sección
Artículos originales
Licencia
Derechos de autor 2022 Nutrición Clínica y Dietética Hospitalaria
Esta obra está bajo una licencia internacional Creative Commons Atribución-NoComercial-SinDerivadas 4.0.
Los lectores pueden utilizar los textos publicados de acuerdo con la definición BOAI (Budapest Open Access Initiative)