Awareness of Gluten-Free Diet among the General Public in Saudi Arabia
Palabras clave:
Gluten-free diet, nutrition, Celiac disease, Saudi Arabia
Resumen
Introduction: Gluten is the combination of gliadin and glutenin within a fraction of wheat. Its fraction is used in food processing because of its unique structure-building attributes. The gluten in wheat flour forms a three-dimensional protein network when mixed and hydrated properly. Even those without a diagnosis of an illness linked to gluten are beginning to follow a GFD. 
Methodology: This study aimed to examine the knowledge and use of the gluten-free diet among the general population of Saudi Arabia. This cross-sectional study included participants 18 years and older. Frequencies and percentages were used for descriptive data.
Results: A total of 793 were included in the study. More than half of the participants knew what gluten and gluten-free diet are. Females demonstrated a greater awareness of gluten-free diet and their use (%). Other questions on the prevalence of gluten-free diet use showed that 5% follow it rigorously, while 10.3% follow it with lapses.
Conclusion: The majority of the respondents were aware of the gluten diet; mostly, the gluten-free diet was followed due to health-related lifestyles. Future research on a broader scale in SA is highly needed to better understand the Saudi population. 
Citas
El Khoury D, Balfour-Ducharme S, Joye IJ. A Review on the GlutenFree Diet: Technological and Nutritional Challenges. Nutrients 2018;10(10):1410. doi:https://doi.org/10.3390/nu10101410
Niland B, Cash BD. Health Benefits and Adverse Effects of a GlutenFree Diet in Non-Celiac Disease Patients. Gastroenterology & hepatology. 2018;14(2):82-91. https://www.ncbi.nlm.nih.gov/pmc/arti cles/PMC5866307/
Lerner BA, Green PHR, Lebwohl B. Going Against the Grains: Gluten-Free Diets in Patients Without Celiac Disease—Worthwhile or Not? Digestive Diseases and Sciences. 2019;64(7):1740-1747. doi:https://doi.org/10.1007/s10620-019-05663-x
Audisio A, Laguzzi J, Lavanda I, et al. Improvement in symptoms and nutritional assessment after following a gluten - and casein – free diet in a group of children with autism from an especialised institution. Nutr clín diet hosp. 33(3):39-47. doi:https://doi.org/ 10.12873/333glutencasein
Taraghikhah N, Ashtari S, Asri N, et al. An updated overview of spectrum of gluten-related disorders: clinical and diagnostic aspects. BMC Gastroenterology. 2020;20(1). doi:https://doi.org/ 10.1186/s12876-020-01390-0
El-Metwally A, Toivola P, AlAhmary K, et al. The Epidemiology of Celiac Disease in the General Population and High-Risk Groups in Arab Countries: A Systematic Review. BioMed Research International. 2020;2020:e6865917. doi:https://doi.org/10.1155/ 2020/6865917
Choung RS, Unalp-Arida A, Ruhl CE, Brantner TL, Everhart JE, Murray JA. Less Hidden Celiac Disease But Increased Gluten Avoidance Without a Diagnosis in the United States. Mayo Clinic Proceedings. 2017;92(1):30-38.
Golley S, Corsini N, Topping D, Morell M, Mohr P. Motivations for avoiding wheat consumption in Australia: results from a population survey. Public Health Nutrition. 2014;18(3):490-499. doi:https://doi.org/10.1017/s1368980014000652
Akhavan Sabbagh, M. et al. (2021) 'Barriers of adherence to a gluten-free diet in Iranian adults with celiac disease', Gastroen terology Nursing, 44(5), pp. 320–327. doi:10.1097/sga.00000000 00000575.
Muhammad H, Reeves S, Jeanes YM. Identifying and improving adherence to the gluten-free diet in people with coeliac disease. Proceedings of the Nutrition Society. 2019;78(3):418-425. doi:https://doi.org/10.1017/s002966511800277x
Júlia Figueiredo Machado, L. Ganolfi, Coutinho R, Lucas Malta Almeida, Renata Puppin Zandonadi, Riccardo Pratesi. Gluten-free dietary compliance in Brazilian celiac patients: questionnaire versus serological test. Nutr clín diet hosp . 2013;33(2):46-49.
Xhakollari V, Canavari M, Osman M. Factors affecting consumers' adherence to gluten-free diet, a systematic review. Trends in Food Science & Technology. 2019;85:23-33.
Muhammad H, Reeves S, Ishaq S, Mayberry J, Jeanes Y. Adherence to a Gluten Free Diet Is Associated with Receiving Gluten Free Foods on Prescription and Understanding Food Labelling. Nutrients. 2017;9(7):705. doi:https://doi.org/10.3390 /nu9070705
Ontiveros N, Rodríguez-Bellegarrigue CI, Galicia-Rodríguez G, et al. Prevalence of Self-Reported Gluten-Related Disorders and Adherence to a Gluten-Free Diet in Salvadoran Adult Population. International Journal of Environmental Research and Public Health 2018;15(4):E786. oi:https://doi.org/10.3390/ijerph15040786
Jessica Grace Bissinger. Knowledge and understanding of gluten and the gluten-free diet by students at James Madison University. JMU Scholarly Commons. Published 2019. Accessed June 19, 2023. https://commons.lib.jmu.edu/master201019/151
Silvester JA, Weiten D, Graff LA, Walker JR, Duerksen DR. Is it gluten-free? Relationship between self-reported gluten-free diet adherence and knowledge of gluten content of foods. Nutrition. 2016;32(7-8):777-783. doi:https://doi.org/10.1016/j.nut.2016.01.021
TAŞKIN B, SAVLAK N. Public awareness, knowledge and sensitivity towards celiac disease and gluten-free diet is insufficient: a survey from Turkey. Food Science and Technology. 2020;41(1): 218-244. doi:https://doi.org/10.1590/fst.07420
Al-sunaid FF, Al-homidi MM, Al-qahtani RM, et al. The influence of a gluten-free diet on health-related quality of life in individuals with celiac disease. BMC Gastroenterology. 2021;21(1). doi:https://doi.org/10.1186/s12876-021-01908-0
Sara Andrea Quinteros-Fernandez. Knowledge and Behaviors Surrounding a Gluten-Free Diet Between Medically and SelfDiagnosed Individuals. SURFACE at Syracuse University. Published 2015. Accessed June 19, 2023. https://surface.syr.edu/thesis/112
Silvester JA, Weiten D, Graff LA, Walker JR, Duerksen DR. Living gluten-free: adherence, knowledge, lifestyle adaptations and feelings towards a gluten-free diet. Journal of Human Nutrition and Dietetics. 2015;29(3):374-382. doi:https://doi.org/10.1111/jhn.12316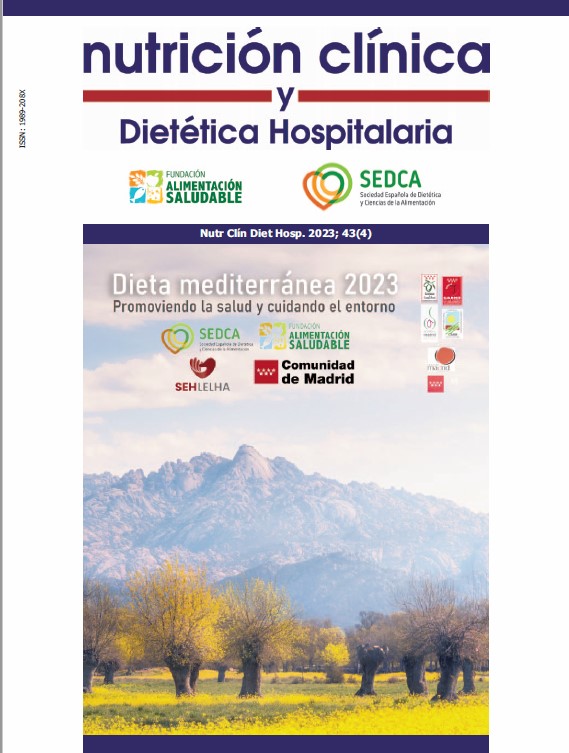 Descargas
Cómo citar
Alhusseini, N., BAJABER, M. O., SHABI, S. M., BIN SAEEDU, S. S., ALJEJAKLI, R. A. H., ALSHARIMI, E. M., & ALABADI-BIERMAN, A. (2023). Awareness of Gluten-Free Diet among the General Public in Saudi Arabia. Nutrición Clínica Y Dietética Hospitalaria, 43(4). https://doi.org/10.12873/434alhusseini
Sección
Artículos originales
Licencia
Derechos de autor 2023 Nutrición Clínica y Dietética Hospitalaria
Esta obra está bajo una licencia internacional Creative Commons Atribución-NoComercial-SinDerivadas 4.0.
Los lectores pueden utilizar los textos publicados de acuerdo con la definición BOAI (Budapest Open Access Initiative)