Efectos del ayuno intermitente en pacientes con Diabetes Mellitus tipo 2.
Palabras clave:
diabetes mellitus; diabetes mellitus Tipo 2; ayuno; dieta para diabéticos; revisión sistemática
Resumen
Introducción: La enfermedad de Diabetes Mellitus (DM) es considerada una de las enfermedades no transmisibles que causa mayor morbimortalidad a nivel mundial y requiere de un elevado volumen de recursos y costes. Puesto que la forma de presentación más común es la diabetes mellitus tipo 2 (DM2), se plantean nuevas estratégicas terapéuticas, como es el uso de la dieta de ayuno intermitente como forma de afrontamiento de la enfermedad.
Objetivo: Determinar los efectos del ayuno intermitente en los pacientes con DM2, así como identificar los riesgos y beneficios de la práctica de dicha dieta.
Material y métodos: Se ha realizado una búsqueda bibliográfica en 6 bases de datos (Pubmed, Dialnet, Cochrane, Cinahl, Embase y Scopus), sobre los efectos que produce la práctica del ayuno intermitente en personas con DM2. Se seleccionaron 16 artículos, que han sido analizados mediante la lectura crítica con el programa FLC 3.0.
Resultados: Se destacaron cambios positivos y estadísticamente significativos en los niveles de hemoglobina glicosilada (HbA1c), disminución de peso, disminución de los niveles de la glucosa en ayunas, así como los niveles de lípidos plasmáticos, el índice de masa corporal (IMC) y la circunferencia de la cintura. Como efectos adversos se observaron los eventos de hipoglucemia, pero no se vieron vinculados a la práctica del ayuno, sino a las características personales de cada paciente. 
Conclusiones: La dieta del ayuno intermitente en los pacientes con DM2 puede ser una herramienta eficaz que aporta beneficios a la salud de las personas siempre y cuando éstos sean controlados y asesorados por profesionales adecuados. No obstante, se necesitan más estudios en humanos, con una mayor muestra de personas y más prolongados en el tiempo para obtener unos resultados más sólidos y concluyentes. 
Citas
Diabetes [Internet]. Organización Mundial de la Salud. [citado 23 de noviembre de 2020]. Disponible en: https://www.who.int/es/news-room/fact-sheets/detail/diabetes
Diagnosis and Classification of Diabetes Mellitus. American Diabetes Association. 2005;28(1):37-42.
Ezkurra Loiola P, et al. Guía de actualización en Diabetes Mellitus Tipo 2. Fundación redGDPS; 2016. Disponible en: http://redgdps.org/gestor/upload/GUIA2016/Guia_Actualizacion_2016.pdf
Estrategia en diabetes del Sistema Nacional de Salud. Actualización. Ministerio de Sanidad, Servicios Sociales e Igualdad, 18-20. 28014 Madrid; 2012. Disponible en: https://www.mscbs.gob.es/organizacion/sns/planCalidadSNS/pdf/excelencia/cuidadospaliativos-diabetes/DIABETES/Estrategia_en_diabetes_del_SNS_Accesible.pdf
Diabetes F para la. La diabetes en España [Internet]. [citado 14 de febrero de 2021]. Disponible en: https://www.fundaciondiabetes.org/prensa/297/la-diabetes-en-espana
Sánchez Vásquez R, Ruiz Herrera L F. Ayuno Intermitente, ¿una estrategia efectiva para bajar de peso? 2020.
Grajower MM, Horne BD. Clinical management of intermittent fasting in patients with diabetes mellitus. Nutrients. 2019;11(4): 873.
Papamichou D, Panagiotakos D b., Itsiopoulos C. Dietary patterns and management of type 2 diabetes: A systematic review of randomised clinical trials. Nutrition, Metabolism & Cardiovascular Diseases. junio de 2019;29(6):531-43
Carter S, Clifton PM, Keogh JB. Effect of Intermittent Compared With Continuous Energy Restricted Diet on Glycemic Control in Patients With Type 2 Diabetes: A Randomized Noninferiority Trial. JAMA Netw Open. 6 de julio de 2018;1(3):e180756
Bener A, Al-Hamaq AOAA, Öztürk M, Çatan F, Haris PI, Rajput KU, et al. Effect of ramadan fasting on glycemic control and other essential variables in diabetic patients. Annals of African Medicine. 10 de enero de 2018;17(4):196.
Corley BT, Carroll RW, Hall RM, Weatherall M, Parry-Strong A, Krebs JD. Intermittent fasting in Type 2 diabetes mellitus and the risk of hypoglycaemia: a randomized controlled trial. Diabet Med. mayo de 2018;35(5):588-94.
Albosta M, Bakke J. Intermittent fasting: is there a role in the treatment of diabetes? A review of the literature and guide for primary care physicians. Clin Diabetes Endocrinol. 3 de febrero de 2021;7(1):3.
Borgundvaag E, Mak J, Kramer CK. Metabolic Impact of Intermittent Fasting in Patients With Type 2 Diabetes Mellitus: A Systematic Review and Meta-analysis of Interventional Studies. The Journal of Clinical Endocrinology & Metabolism. 15 de diciembre de 2020.
Abdullah K, AL-Habori M, Al-Eryani E. Ramadan Intermittent Fasting Affects Adipokines and Leptin/Adiponectin Ratio in Type 2 Diabetes Mellitus and Their First-Degree Relatives [Internet]. Vol. 2020, BioMed Research International. Hindawi; 2020 [citado 27 de febrero de 2021]. p. e1281792. Disponible en: https://www.hindawi.com/journals/bmri/2020/1281792/
Blanco JC, Khatri A, Kifayat A, Cho R, Aronow WS. Starvation Ketoacidosis due to the Ketogenic Diet and Prolonged Fasting – A Possibly Dangerous Diet Trend. Am J Case Rep. 22 de noviembre de 2019;20:1728-31.
Carter S, Clifton PM, Keogh JB. The effect of intermittent compared with continuous energy restriction on glycaemic control in patients with type 2 diabetes: 24-month follow-up of a randomised noninferiority trial. Diabetes Res Clin Pract. mayo de 2019;151:11-9.
Vitale R, Kim Y. The Effects of Intermittent Fasting on Glycemic Control and Body Composition in Adults with Obesity and Type 2 Diabetes: A Systematic Review. Metabolic Syndrome and Related Disorders. 11 de agosto de 2020;18(10):450-61.
Lichtash C, Fung J, Ostoich KC, Ramos M. Therapeutic use of intermittent fasting and ketogenic diet as an alternative treatment for type 2 diabetes in a normal weight woman: a 14-month case study. BMJ Case Rep. 7 de julio de 2020;13(7).
Parr EB, Devlin BL, Lim KHC, Moresi LNZ, Geils C, Brennan L, et al. Time-Restricted Eating as a Nutrition Strategy for Individuals with Type 2 Diabetes: A Feasibility Study. Nutrients. noviembre de 2020;12(11):3228.
Hutchison AT, Regmi P, Manoogian ENC, Fleischer JG, Wittert GA, Panda S, et al. Time-Restricted Feeding Improves Glucose Tolerance in Men at Risk for Type 2 Diabetes: A Randomized Crossover Trial. Obesity (Silver Spring). mayo de 2019;27(5):724-32.
Furmli S, Elmasry R, Ramos M, Fung J. Therapeutic use of intermittent fasting for people with type 2 diabetes as an alternative to insulin. BMJ Case Reports. 2018;2018.
Ganesan K, Habboush Y, Dagogo-Jack S. Calorie Restriction and Intermittent Fasting: Impact on Glycemic Control in People With Diabetes. Diabetes Spectr. mayo de 2020;33(2):143-8.
Arnason TG, Bowen MW, Mansell KD. Effects of intermittent fasting on health markers in those with type 2 diabetes: A pilot study. World Journal of Diabetes. 15 de abril de 2017;8(4):154-64.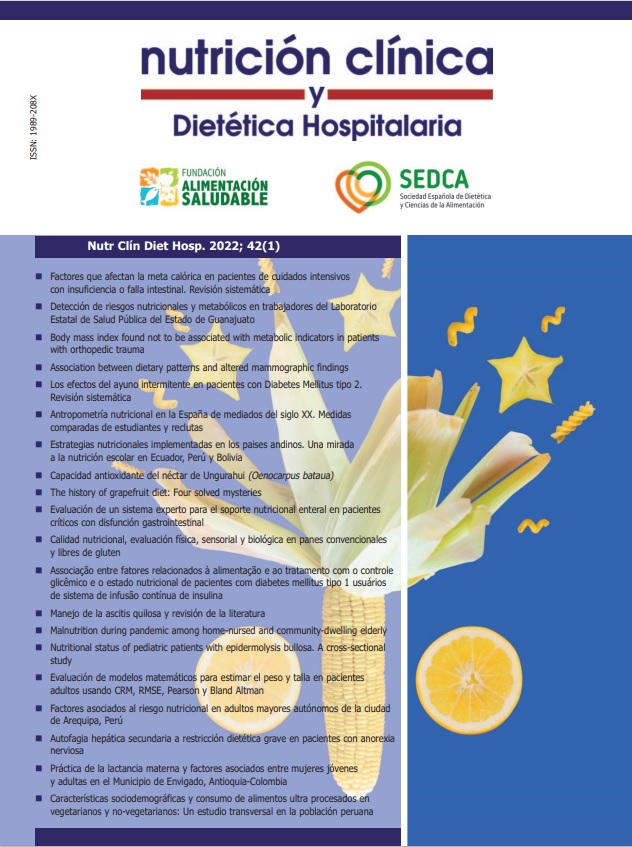 Descargas
Cómo citar
Almudéver-Campo, L., & Kovalkova, K. (2022). Efectos del ayuno intermitente en pacientes con Diabetes Mellitus tipo 2. Nutrición Clínica Y Dietética Hospitalaria, 42(01). https://doi.org/10.12873/421almudever
Licencia
Derechos de autor 2022 Nutrición Clínica y Dietética Hospitalaria
Esta obra está bajo una licencia internacional Creative Commons Atribución-NoComercial-SinDerivadas 4.0.
Los lectores pueden utilizar los textos publicados de acuerdo con la definición BOAI (Budapest Open Access Initiative)