Soy and Algae Combination Using Tempe Fermentation Method: A Proposed Opinion for the Development of Functional Food
Palabras clave:
Soy, Algae, Tempe, Fermentation Food, Functional Food, Soybean, Future Food, high value-added processing
Resumen
Backgrounds and Aims: Marine algae and plant-based protein have gained popularity among the most sought-after functional food ingredients and appeared as emerging trends for functional food. Combining ingredients that are well known to exert beneficial properties towards health can be considered an innovative strategy for developing novel functional foods. Each functional ingredient may contribute differently to health promotion and complement the beneficial properties of other components, thus increasing the overall health values of novel functional foods. In addition, these ingredients may exhibit synergistic activities that would improve the functionality of novel functional foods. Therefore, we propose that combining marine algae in the fermentation of tempe would be an innovative strategy to create a novel soybean-based functional food. This opinion-review article would provide a thorough insight into the conception, feasibility, and further research regarding the algae-tempe combination as a future functional food.
Results and Conclusions: The supplementation of marine algae in the fermentation of tempe would open a new horizon about novel soybean-based functional food. Introducing marine algae in tempe production would bring additional compounds that might not be naturally present in soybeans. These compounds are subject to mold fermentation. We suggest that marine algae would improve the nutritional value of tempe by providing additional carbohydrates and protein. We suggest algal supplementation in tempe fermentation could be done by incorporating freeze-dried algal powder into the pre-boiled soybeans and starters before fermentation. We also suspect that algal polysaccharides might affect the texture of the tempe and bind water required for mold growth during fermentation. Therefore, the fermentation parameters for this product would need optimizing. Furthermore, the organoleptic analysis should also be the primary consideration and be conducted to measure consumer acceptance regarding the product since marine algae might bring specific flavors that might not be acceptable to some consumers.
Citas
Granato D, Barba FJ, Bursać Kovačević D, Lorenzo JM, Cruz AG, Putnik P. Functional Foods: Product Development, Technological Trends, Efficacy Testing, and Safety. Annu Rev Food Sci Technol 2020;11:93–118. https://doi.org/10.1146/annurev-food-032519-051708.
Karelakis C, Zevgitis P, Galanopoulos K, Mattas K. Consumer Trends and Attitudes to Functional Foods. J Int Food Agribus Mark 2020;32:266–94. https://doi.org/10.1080/08974438.2019.1599760.
Geada P, Moreira C, Silva M, Nunes R, Madureira L, Rocha CMR, et al. Algal proteins: Production strategies and nutritional and functional properties. Bioresour Technol 2021;332:125125. https://doi.org/https://doi.org/10.1016/j.biortech.2021.125125.
Shahidi F, Ambigaipalan P. Novel functional food ingredients from marine sources. Curr Opin Food Sci 2015;2:123–9. https://doi.org/https://doi.org/10.1016/j.cofs.2014.12.009.
Wells ML, Potin P, Craigie JS, Raven JA, Merchant SS, Helliwell KE, et al. Algae as nutritional and functional food sources: revisiting our understanding. J Appl Phycol 2017;29:949–82. https://doi.org/10.1007/s10811-016-0974-5.
Senanayake SPJN, Ahmed N, Fichtali J. Nutraceuticals and Bioactives from Marine Algae. Handb. Seaf. Qual. Saf. Heal. Appl., 2010, p. 455–63. https://doi.org/https://doi.org/10.1002/9781444325546.ch37.
Murray M, Dordevic AL, Ryan L, Bonham MP. An emerging trend in functional foods for the prevention of cardiovascular disease and diabetes: Marine algal polyphenols. Crit Rev Food Sci Nutr 2018;58:1342–58. https://doi.org/10.1080/10408398.2016.1259209.
Mišurcová L, Škrovánková S, Samek D, Ambrožová J, Machů L. Health benefits of algal polysaccharides in human nutrition. Adv Food Nutr Res 2012;66:75–145. https://doi.org/10.1016/B978-0-12-394597-6.00003-3.
Romulo A, Surya R. Tempe: A traditional fermented food of Indonesia and its health benefits. Int J Gastron Food Sci 2021;26:100413. https://doi.org/10.1016/j.ijgfs.2021.100413.
Ahnan-Winarno AD, Cordeiro L, Winarno FG, Gibbons J, Xiao H. Tempeh: A semicentennial review on its health benefits, fermentation, safety, processing, sustainability, and affordability. Compr Rev Food Sci Food Saf 2021;20:1717–67. https://doi.org/10.1111/1541-4337.12710.
Kuligowski M, Pawłowska K, Jasińska-Kuligowska I, Nowak J. Isoflavone composition, polyphenols content and antioxidative activity of soybean seeds during tempeh fermentation. CyTA - J Food 2017;15:27–33. https://doi.org/10.1080/19476337.2016.1197316.
Nowak J, Kuligowski M. Functional properties of traditional food products made by mold fermentation. Fermented Foods, CRC Press; 2017, p. 46–73.
Rizzo G. The Antioxidant Role of Soy and Soy Foods in Human Health. Antioxidants (Basel, Switzerland) 2020;9. https://doi.org/10.3390/antiox9070635.
Nurkolis F, Qhabibi FR, Yusuf VM, Bulain S, Praditya GN, Lailossa DG, et al. Anticancer properties of soy-based tempe: A proposed opinion for future meal. Front Oncol 2022;12:1054399. https://doi.org/10.3389/fonc.2022.1054399.
Bigliardi B, Galati F. Innovation trends in the food industry: The case of functional foods. Trends Food Sci Technol 2013;31:118–29. https://doi.org/https://doi.org/10.1016/j.tifs.2013.03.006.
Natarajan TD, Ramasamy JR, Palanisamy K. Nutraceutical potentials of synergic foods: a systematic review. J Ethn Foods 2019;6:27. https://doi.org/10.1186/s42779-019-0033-3.
Uraz T, Özer BH. Molds Employed in Food Processing. In: Batt CA, Tortorello MLBT-E of FM (Second E, editors. Encycl. Food Microbiol., Oxford: Academic Press; 2014, p. 522–8. https://doi.org/10.1016/B978-0-12-384730-0.00323-2.
Food and Agriculture Organization–World Health Organization. Regional Standard for Tempe CXS 313R-2013 Adopted in 2013. Amended in 2015, 2017. Rome, Italy FAO–WHO Codex Aliment 2017.
Adhianata H, Pramana A, Rochmawati N, Ditya Y. Development of Non-Soybean Tempeh from Cowpea Bean and Koro Bean. IOP Conf. Ser. Earth Environ. Sci., vol. 1059, IOP Publishing; 2022, p. 12062.
Rahmawati D, Gunawan-Puteri MDPT, Santosa E. Non-Soy Legumes as Alternative Raw Ingredient for Tempe Production in Indonesia with Additional Health Benefits: a Review. J Funct Food Nutraceutical 2021.
Udayangani RMAC, Somasiri GDP, Wickramasinghe I, Kim S. Potential health benefits of sulfated polysaccharides from marine algae. Encycl Mar Biotechnol 2020;1:629–35.
Kumari A, Garima, Bharadvaja N. A comprehensive review on algal nutraceuticals as prospective therapeutic agent for different diseases. 3 Biotech 2023;13:44. https://doi.org/10.1007/s13205-022-03454-2.
Zheng L-X, Chen X-Q, Cheong K-L. Current trends in marine algae polysaccharides: The digestive tract, microbial catabolism, and prebiotic potential. Int J Biol Macromol 2020;151:344–54. https://doi.org/https://doi.org/10.1016/j.ijbiomac.2020.02.168.
Garcia-Perez P, Cassani L, Garcia-Oliveira P, Xiao J, Simal-Gandara J, Prieto MA, et al. Algal nutraceuticals: A perspective on metabolic diversity, current food applications, and prospects in the field of metabolomics. Food Chem 2023;409:135295. https://doi.org/https://doi.org/10.1016/j.foodchem.2022.135295.
Pawar U, Desai N, Dethe U, Aparadh V, Gaikwad D. Algae as Nutraceutical, Functional Food, and Food Ingredients. Algal Genet. Resour. Cosmeceuticals, Nutraceuticals, Pharm. from Algae, CRC Press; 2022, p. 33.
Udayan A, Arumugam M, Pandey A. Chapter 4 - Nutraceuticals From Algae and Cyanobacteria. In: Rastogi RP, Madamwar D, Pandey ABT-AGC, editors. Algal Green Chem., Amsterdam: Elsevier; 2017, p. 65–89. https://doi.org/10.1016/B978-0-444-63784-0.00004-7.
Rajauria G, Yuan Y V. Algae: A Functional Food with a Rich History and Future Superfood. Recent Adv. Micro Macroalgal Process., 2021, p. 1–13. https://doi.org/https://doi.org/10.1002/9781119542650.ch1.
Londoño-Hernández L, Ramírez-Toro C, Ruiz HA, Ascacio-Valdés JA, Aguilar-Gonzalez MA, Rodríguez-Herrera R, et al. Rhizopus oryzae - Ancient microbial resource with importance in modern food industry. Int J Food Microbiol 2017;257:110–27. https://doi.org/10.1016/j.ijfoodmicro.2017.06.012.
Wan Saidatul Syida WK, Noriham A, Normah I, Mohd Yusuf M. Changes in chemical composition and amino acid content of soy protein isolate (SPI) from tempeh. Int Food Res J 2018;25:1528–33.
Bleakley S, Hayes M. Algal Proteins: Extraction, Application, and Challenges Concerning Production. Foods (Basel, Switzerland) 2017;6. https://doi.org/10.3390/foods6050033.
Kustyawati ME, Subeki, Murhadi, Rizal S, Astuti P. Vitamin B12 production in soybean fermentation for tempeh. AIMS Agric Food 2020;5:262–71. https://doi.org/10.3934/AGRFOOD.2020.2.262.
Croft MT, Lawrence AD, Raux-Deery E, Warren MJ, Smith AG. Algae acquire vitamin B12 through a symbiotic relationship with bacteria. Nature 2005;438:90–3. https://doi.org/10.1038/nature04056.
Jati Kusuma R, Ermamilia A. Fortification of tempeh with encapsulated iron improves iron status and gut microbiota composition in iron deficiency anemia condition. Nutr Food Sci 2018;48:962–72. https://doi.org/10.1108/NFS-01-2018-0027.
Pawlak R, Berger J, Hines I. Iron Status of Vegetarian Adults: A Review of Literature. Am J Lifestyle Med 2018;12:486–98. https://doi.org/10.1177/1559827616682933.
Sharangi, A.B.; Das, S. Healing indigestion: A phytotherapeutic review. Advances in Traditional Medicine 2022, 22, 437-453. https://doi.org/10.1007/s13596-020-00514-x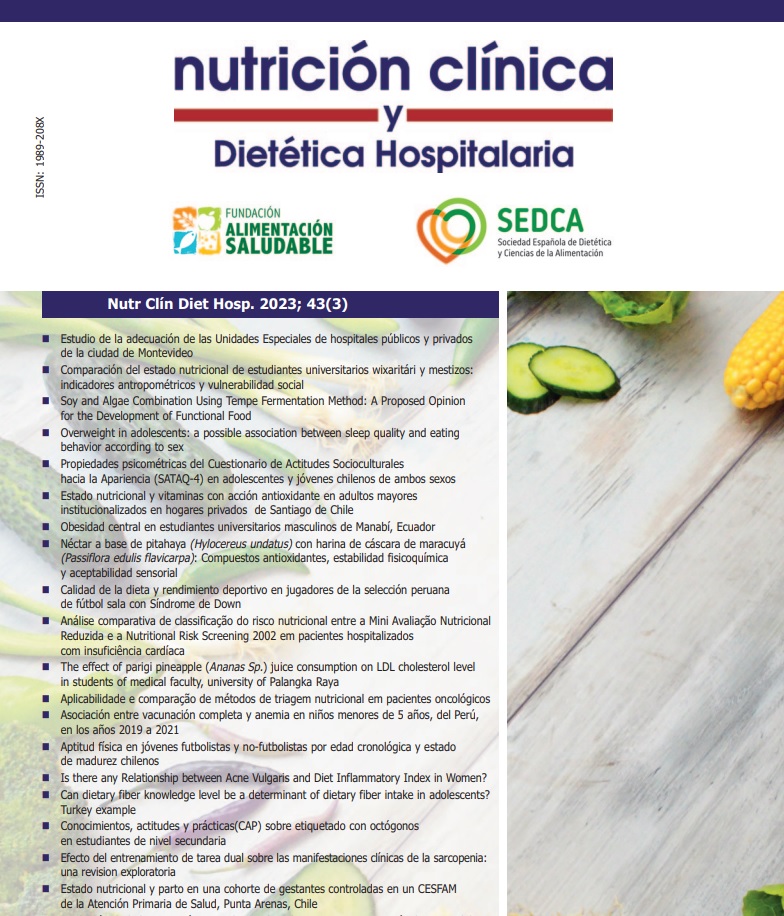 Descargas
Cómo citar
ASSA, Y. A., MAYULU, N., SURYA, R., TASLIM, N. A., GUNAWAN, W. B., SAMTIYA, M., … Nurkolis, F. (2023). Soy and Algae Combination Using Tempe Fermentation Method: A Proposed Opinion for the Development of Functional Food . Nutrición Clínica Y Dietética Hospitalaria, 43(3). https://doi.org/10.12873/433assa
Licencia
Derechos de autor 2023 Nutrición Clínica y Dietética Hospitalaria
Esta obra está bajo una licencia internacional Creative Commons Atribución-NoComercial-SinDerivadas 4.0.
Los lectores pueden utilizar los textos publicados de acuerdo con la definición BOAI (Budapest Open Access Initiative)