Oncologic Pathway on Colon Cancer: A Scoping Review
Palabras clave:
oncologic pathway; signaling; oncogenic; colon cancer; CRC
Citas
Pan P, Yu J, Wang LS. Colon cancer: what we eat. Surgical Oncology Clinics. 2018 Apr 1;27(2):243-67. doi: 10.1016/j.soc.20 17.11.002
WHO. WHO Classification of Digestive System Tumours (5th ed.). World Health Organization. 2020
Mattiuzzi C, Lippi G. Current cancer epidemiology. Journal of epidemiology and global health. 2019 Dec;9(4):217. doi: 10.2991/ jegh.k.191008.001
Slattery ML, Mullany LE, Sakoda LC, Wolff RK, Stevens JR, Samowitz WS, Herrick JS. The PI3K/AKT signaling pathway: associations of miRNAs with dysregulated gene expression in colorectal cancer. Molecular carcinogenesis. 2018 Feb;57(2):243-61.
doi: 10.1002/mc.22752
Carneiro BA, El-Deiry WS. Targeting apoptosis in cancer therapy. Nature reviews Clinical oncology. 2020 Jul;17(7):395-417. doi:
1038/s41571-020-0341-y
Takahashi H, Hosono K, Endo H, Nakajima A. Colon epithelial proliferation and carcinogenesis in diet-induced obesity. Journal of gastroenterology and hepatology. 2013 Dec;28:41-7. doi: 10.1111/ jgh.12240
Sasahira T, Kirita T. Hallmarks of cancer-related newly prognostic factors of oral squamous cell carcinoma. International journal of molecular sciences. 2018 Aug 16;19(8):2413. Doi: 10.3390/ijms 19082413
Szmida E, Karpiński P, Leszczynski P, Sedziak T, Kielan W, Ostasiewicz P, Sasiadek MM. Aberrant methylation of ERBB pathway genes in sporadic colorectal cancer. Journal of applied genetics. 2015 May;56:185-92. doi: 10.1007/s13353-014-0253-6
Kim SW, Park KC, Jeon SM, Ohn TB, Kim TI, Kim WH, Cheon JH. Abrogation of galectin-4 expression promotes tumorigenesis in colorectal cancer. Cellular Oncology. 2013 Apr;36:169-78. doi: 10.1007/s13402-013-0124-x
Wang S, Qiu J, Liu L, Su C, Qi L, Huang C, Chen X, Zhang Y, Ye Y, Ding Y, Liang L. CREB5 promotes invasiveness and metastasis in colorectal cancer by directly activating MET. Journal of Experimental & Clinical Cancer Research. 2020 Dec;39(1):1-1. doi: 10.1186/s13046-020-01673-0
Lin H, Fang Z, Su Y, Li P, Wang J, Liao H, Hu Q, Ye C, Fang Y, Luo Q, Lin Z. DHX32 promotes angiogenesis in colorectal cancer through augmentingβ-catenin signaling to induce expression of VEGFA. EBioMedicine. 2017 Apr 1;18:62-72. doi: 10.1016/j.ebiom. 2017.03.012
Yu J, Wu WK, Liang Q, Zhang N, He J, Li X, Zhang X, Xu L, Chan
MT, Ng SS, Sung JJ. Disruption of NCOA2 by recurrent fusion with LACTB2 in colorectal cancer. Oncogene. 2016 Jan;35(2):187-95. doi: 10.1038/onc.2015.72
Luan L, Li N, Zhang K, Wang X, Pan H. Diversin upregulates the proliferative ability of colorectal cancer by inducing cell cycle proteins. Experimental and Molecular Pathology. 2022 Dec 1;129: 104850. doi: 10.1016/j.yexmp.2023.104850
Shang A, Gu C, Wang W, Wang X, Sun J, Zeng B, Chen C, Chang W, Ping Y, Ji P, Wu J. Exosomal circPACRGL promotes progression of colorectal cancer via the miR-142-3p/miR-506-3p-TGF-β1 axis.
Molecular cancer. 2020 Dec;19(1):1-5. doi: 10.1186/s12943-020-
-0
Pan Y, Cheung ST, Tong JH, Tin KY, Kang W, Lung RW, Wu F, Li H, Ng SS, Mak TW, To KF. Granulin epithelin precursor promotes colorectal carcinogenesis by activating MARK/ERK pathway. Journal of Translational Medicine. 2018 Dec;16(1):1-2. doi: 10.1186/s12 967-018-1530-7
Zhang Y, Zhang C, Li J, Jiang M, Guo S, Yang G, Zhang L, Wang F, Yi S, Wang J, Fu Y. Inhibition of AKT induces p53/SIRT6/PARP1 dependent parthanatos to suppress tumor growth. Cell Communication and Signaling. 2022 Dec;20(1):1-21. doi:10.1186/ s12964-022-00897-1
Uppada SB, Gowrikumar S, Ahmad R, Kumar B, Szeglin B, Chen X, Smith JJ, Batra SK, Singh AB, Dhawan P. MASTL induces Colon Cancer progression and Chemoresistance by promoting Wnt/βcatenin signaling. Molecular cancer. 2018 Dec;17:1-5. doi: 10.1186/ s12943-018-0848-3
Zhang W, Zhang T, Jin R, Zhao H, Hu J, Feng B, Zang L, Zheng M, Wang M. MicroRNA-301a promotes migration and invasion by targeting TGFBR2 in human colorectal cancer. Journal of Experimental & Clinical Cancer Research. 2014 Dec;33(1):1-3. doi: 10.1186/s13046-014-0113-6
Liu Q, Zhang L, Zou Y, Tao Y, Wang B, Li B, Liu R, Wang B, Ding L, Cui Q, Lin J. Modulating p-AMPK/mTOR pathway of mitochondrial dysfunction caused by MTERF1 abnormal expression in colorectal cancer cells. International Journal of Molecular Sciences. 2022 Oct 15;23(20):12354. doi: 10.3390/ijms232012354
Wang X, Wu F, Wang H, Duan X, Huang R, Tuersuntuoheti A, Su L, Yan S, Zhao Y, Lu Y, Li K. PDCD6 cooperates with C-Raf to facilitate colorectal cancer progression via Raf/MEK/ERK activation. Journal of Experimental & Clinical Cancer Research. 2020 Dec;39(1):1-5. doi: 10.1186/s13046-020-01632-9
Fan LC, Teng HW, Shiau CW, Tai WT, Hung MH, Yang SH, Jiang JK, Chen KF. Pharmacological targeting SHP-1-STAT3 signaling is a promising therapeutic approach for the treatment of colorectal cancer. Neoplasia. 2015 Sep 1;17(9):687-96. doi: 10.1016/j.neo. 2015.08.007
Chong X, Chen J, Zheng N, Zhou Z, Hai Y, Chen S, Zhang Y, Yu Q, Yu S, Chen Z, Bao W. PIK3CA mutations-mediated downregulation of circLHFPL2 inhibits colorectal cancer progression via upregulating PTEN. Molecular Cancer. 2022 Dec;21(1):1-21. doi: 10.1186/s12943-022-01531-x
Khare V, Tabassum S, Chatterjee U, Chatterjee S, Ghosh MK. RNA helicase p68 deploys β-catenin in regulating RelA/p65 gene expression: implications in colon cancer. Journal of Experimental &
Clinical Cancer Research. 2019 Dec;38:1-9. doi: 10.1186/s13046019-1304-y
Zhang M, Zhao S, Tan C, Gu Y, He X, Du X, Li D, Wei P. RNA-binding protein IMP3 is a novel regulator of MEK1/ERK signaling pathway in the progression of colorectal Cancer through the stabilization of MEKK1 mRNA. Journal of Experimental & Clinical Cancer Research. 2021 Dec;40:1-6. doi: 10.1186/s13046-021-01994-8
Fricke F, Lee J, Michalak M, Warnken U, Hausser I, Suarez-Car mona M, Halama N, Schnölzer M, Kopitz J, Gebert J. TGFBR2-dependent alterations of exosomal cargo and functions in DNA mismatch repair-deficient HCT116 colorectal cancer cells. Cell Communication and Signaling. 2017 Dec;15(1):1-4. doi: 10.1186/ s12964-017-0169-y
Sarkhosh-Inanlou R, Imani M, Sam MR. The response of PIK3CA/KRAS-mutant colorectal cancer stem-like cells to RGDpeptide FraC produced by the strawberry anemone: A promising water-soluble peptide-based inhibitor of metastasis-driver gene CXCR4, stem cell regulatory genes and self-renewal. Biomedicine & Pharmacotherapy. 2020 Dec 1;132:110807. doi: 10.1016/j.biopha.2020.110807
Sebio A, Kahn M, Lenz HJ. The potential of targeting Wnt/βcatenin in colon cancer. Expert opinion on therapeutic targets.
Jun 1;18(6):611-5. doi: 10.1517/14728222.2014.906580
Fang Y, Zhong Q, Wang Y, Gu C, Liu S, Li A, Yan Q. CPEB3 functions as a tumor suppressor in colorectal cancer via JAK/STAT signaling. Aging (Albany NY). 2020 Nov 11;12(21):21404. doi: 10.18632/aging.103893
Wang Z. ErbB receptors and cancer. ErbB receptor signaling: methods and protocols. 2017:3-5. doi: 10.1007/978-1-4939-
-7_1
Li L, Hong Z. IL-1β/NF-kb signaling promotes colorectal cancer cell growth through miR-181a/PTEN axis. Archives of biochemistry and biophysics. 2016 Aug 15;604:20-6. doi: 10.1016/j.abb. 2016.06.001
Bishnupuri KS, Alvarado DM, Khouri AN, Shabsovich M, Chen B, Dieckgraefe BK, Ciorba MA. IDO1 and Kynurenine Pathway Metabolites Activate PI3K-Akt Signaling in the Neoplastic Colon Epithelium to Promote Cancer Cell Proliferation and Inhibit ApoptosisIDO1–Kynurenine Pathway Activates PI3K-Akt in Colon Cancer. Cancer research. 2019 Mar 15;79(6):1138-50. doi: 10.1158/0008-5472.CAN-18-0668
Kochi M, Hinoi T, Niitsu H, Miguchi M, Saito Y, Sada H, Sentani K, Sakamoto N, Oue N, Tashiro H, Sotomaru Y. Oncogenic mutation in RAS-RAF axis leads to increased expression of GREB1, resulting in tumor proliferation in colorectal cancer. Cancer Science.
Oct;111(10):3540-9. doi: 10.1111/cas.14558
Wu Q, Wu W, Fu B, Shi L, Wang X, Kuca K. JNK signaling in cancer cell survival. Medicinal research reviews. 2019 Nov;39(6):
-104. doi: 10.1002/med.21574
Jung B, Staudacher JJ, Beauchamp D. Transforming growth factor β superfamily signaling in development of colorectal cancer. Gastroenterology. 2017 Jan 1;152(1):36-52. doi: 10.1053/j.gastro.2016.10.015
Wang SW, Hu J, Guo QH, Zhao Y, Cheng JJ, Zhang DS, Fei Q, Li J, Sun YM. AZD1480, a JAK inhibitor, inhibits cell growth and survival of colorectal cancer via modulating the JAK2/STAT3 signaling pathway. Oncology Reports. 2014 Nov 1;32(5):1991-8. doi: 10.3892/or.2014.3477
Wan ML, Wang Y, Zeng Z, Deng B, Zhu BS, Cao T, Li YK, Xiao J, Han Q, Wu Q. Colorectal cancer (CRC) as a multifactorial disease and its causal correlations with multiple signaling pathways.
Bioscience reports. 2020 Mar 27;40(3). doi: 10.1042/BSR20200265
Zhang J, Li Q, Xue B, He R. MALAT1 inhibits the Wnt/β-catenin signaling pathway in colon cancer cells and affects cell proliferation and apoptosis. Bosnian journal of basic medical sciences. 2020 Aug;20(3):357. doi: 10.17305/bjbms.2019.4408
Ramamoorthi G, Sivalingam N. Molecular mechanism of TGF-β signaling pathway in colon carcinogenesis and status of curcumin
as chemopreventive strategy. Tumor biology. 2014 Aug;35:7295305. doi: 10.1007/s13277-014-1840-1
Guo YJ, Pan WW, Liu SB, Shen ZF, Xu Y, Hu LL. ERK/MAPK signalling pathway and tumorigenesis. Experimental and therapeutic medicine. 2020 Mar 1;19(3):1997-2007. doi: 10.3892/ etm.2020.8454
Ji B, Feng Y, Sun Y, Ji D, Qian W, Zhang Z, Wang Q, Zhang Y, Zhang C, Sun Y. GPR56 promotes proliferation of colorectal cancer cells and enhances metastasis via epithelial-mesenchymal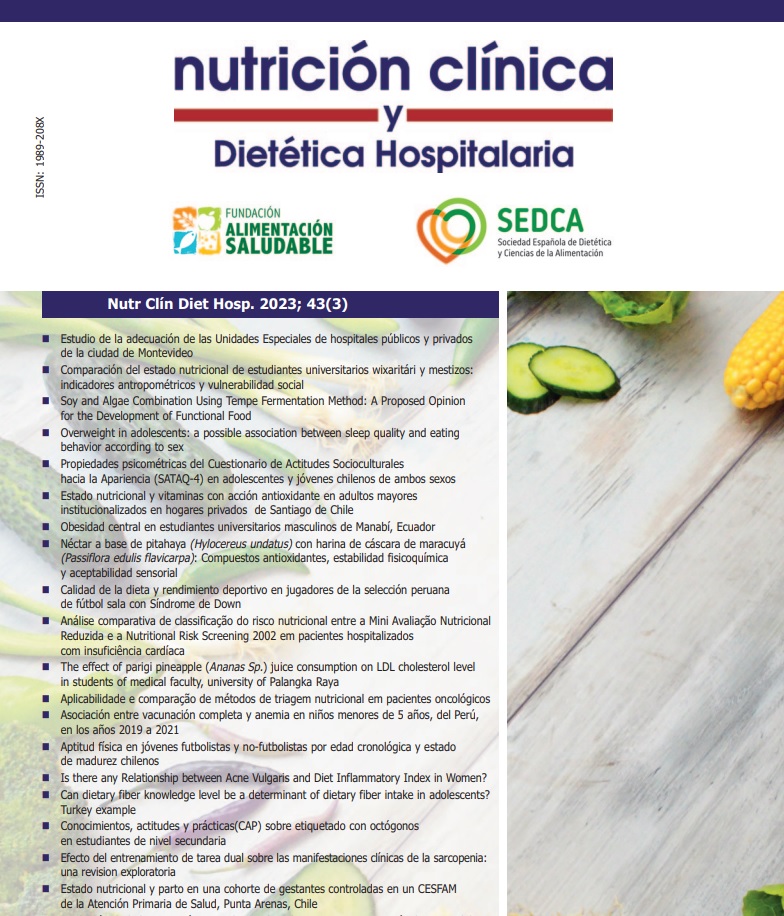 Descargas
Cómo citar
NURLINAH, A., IQBAL ARIF, U., SARRA BEN, B., HIKMAWAN WAHYU, . S., & HAPPY KURNIA, P. (2023). Oncologic Pathway on Colon Cancer: A Scoping Review. Nutrición Clínica Y Dietética Hospitalaria, 43(3). https://doi.org/10.12873/434happy
Licencia
Derechos de autor 2023 Nutrición Clínica y Dietética Hospitalaria
Esta obra está bajo una licencia internacional Creative Commons Atribución-NoComercial-SinDerivadas 4.0.
Los lectores pueden utilizar los textos publicados de acuerdo con la definición BOAI (Budapest Open Access Initiative)