Effects of W100E-Leptin in streptozotocin-induced diabetic mice.
Palabras clave:
Leptin, diabetes, hypoglycemic, W100E-Leptin
Resumen
Objectives: To determine the effects of W100E-Leptin in a streptozotocin-induced diabetic mice model (effects in the body weight, fasting serum glucose and glucose tolerance).
Methods: Intraperitoneal W100E-Leptin application at 1 mg/kg for 13 days. We used 3 experimental groups (n=6). Group 1: Diabetes + W100E-Leptin (intraperitoneal administration), Group 2: Diabetes + buffer (vehicle) and Group 3: Healthy control + buffer (vehicle).
Results: We determined the effects of W100E on the behavior of the mice, more active, more hair and a tendency to gain body weight. We did not observe any hypoglycemic effect of W100E-Leptin on serum glucose levels in the tests we performed.
Conclusions: These results show us the need to characterize the effects of this hormone in diabetes. We will continue with the characterization of the change that is generated in the protein regulation caused by W100E-Leptin in the diabetes, to propose this hormone as an adjunct against diabetes.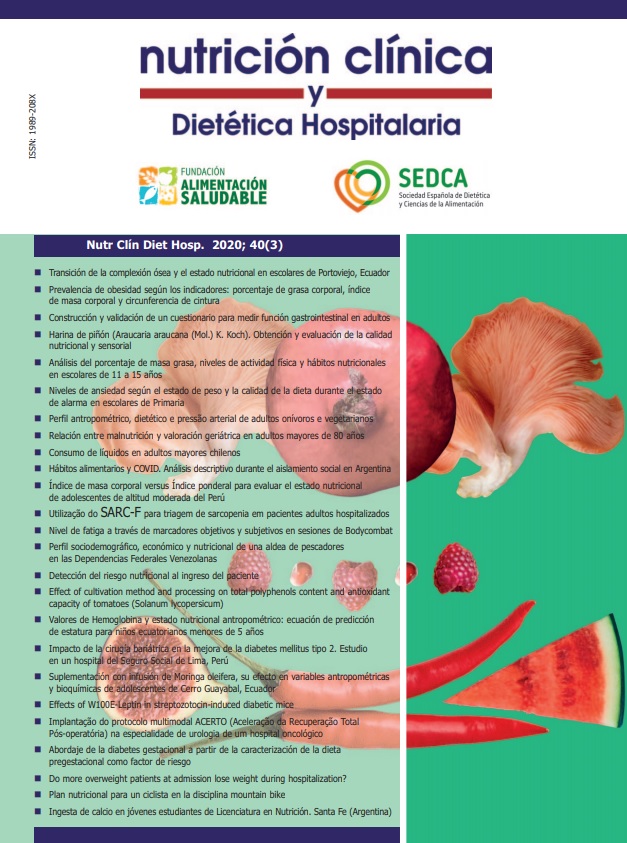 Descargas
Cómo citar
Viqué-Sánchez, J. L., López-Palacios, T. P., Miranda-Ozuna, J. F. T., & Benítez-Cardoza, C. G. (2020). Effects of W100E-Leptin in streptozotocin-induced diabetic mice. Nutrición Clínica Y Dietética Hospitalaria, 40(3). https://doi.org/10.12873/403vique
Sección
Artículos originales
Licencia
Derechos de autor 2020 Nutrición Clínica y Dietética Hospitalaria
Esta obra está bajo una licencia internacional Creative Commons Atribución-NoComercial-SinDerivadas 4.0.
Los lectores pueden utilizar los textos publicados de acuerdo con la definición BOAI (Budapest Open Access Initiative)