Estado nutricional y calidad de vida de pacientes con enfermedad renal crónica en hemodiálisis
Estado nutricional y calidad de vida
Palabras clave:
Insuficiencia renal crónica., Hemodiálisis, Estados nutricionales, Calidad de vida
Resumen
Introducción: La hemodiálisis (HD) provoca cambios en el estado nutricional de los pacientes que conllevan un aumento de la morbilidad y interferir con la calidad de vida (CV). Este estudio tuvo como objetivo evaluar el estado nutricional y la calidad de vida de pacientes sometidos a HD.
Métodos: estudio transversal con 53 pacientes en HD, ambos sexos, con edades comprendidas entre 18 y 59 años, sometidos a evaluación nutricional y de calidad de vida. Se evaluaron parámetros antropométricos y bioquímicos, como peso, altura, índice de masa corporal (IMC), circunferencia del brazo (CB), grosor del pliegue cutáneo del tríceps (DCT), circunferencia de los músculos del brazo (CMB), circunferencia de la cintura (WC), fuerza de prensión manual (HGS). ), albúmina sérica y creatinina. Para evaluar la calidad de vida se utilizó el cuestionario KDQOL-SFTM 1.3. Los datos se expresaron como media, desviación estándar, mediana y rango intercuartílico. Hubo una correlación entre CC y las puntuaciones de CV. Los valores de p <0,05 se consideraron estadísticamente significativos.
Resultados: La mayoría de los pacientes (49,1%) presentaba sobrepeso y obesidad según IMC y alto riesgo cardiovascular según CC (60,4%). Hubo un alto porcentaje de desnutrición según BC (47,2%), DCT (41,5%) y CMB (39,6%) y debilidad muscular por HGS (88,7%). El 71,7% de la muestra presentó niveles adecuados de albúmina sérica. Los dominios con peores niveles de calidad de vida fueron "situación laboral", "limitación física", "compuesto físico", "compuesto mental", "salud general" y "carga de enfermedad renal". El aumento de la CC se asoció con un empeoramiento de la calidad de vida.
Conclusión: Los pacientes presentan sobrepeso asociado a baja masa muscular y fuerza muscular. Los valores altos de CC se asocian con un mayor riesgo de desarrollar enfermedad cardiovascular y, en este estudio, se asociaron con una disminución de la calidad de vida.
Citas
Bello AK, Levin A, Lunney M, Osman MA, Ye F, Ashuntantang G, et al. International Society of Nefrology. Global Kidney Health Atlas: A report by the International Society of Nephrology on the Global Burden of End-stage Kidney Disease and Capacity for Kidney Replacement Therapy and Conservative Care across World Countries and Regions. International Society of Nephrology, Brussels, Belgium. 2019.
Disponívelem: https://www.theisn.org/initiatives/global-kidney-health-atlas/
Jesus NM, Souza GF, Rodrigues CM, Neto OPA, Rodrigues DDM, Cunha CM. Qualidade de vida de indivíduos com doença renal crônica em tratamento dialítico. Braz. J. Nephrol. (J. Bras. Nefrol.). 2019; 41(3): 364-74.
Riella MC, Martins C. Nutrição e o Rim. Rio de Janeiro: Guanabara Koogan, 2009.
Santos, KB, Costa LG, Andrade JML. Estado nutricional de portadores de doença renal crônica em hemodiálise no Sistema Único de Saúde. Ciência & Saúde Coletiva, 2019; 24(3):1189-99.
Silva AMD, Souto TCM, Freitas FF, Morais CN, Soares BS. Estado nutricional de pacientes renais crônicos submetidos a tratamento hemodialítico em um hospital de referência de Pernambuco. Nutr. clín. diet. hosp. 2017; 37(3):58- 65.
Neves PDMM, Sesso RCC, Thomé FS, Lugon JR, Nascimento MM. Inquérito Brasileiro de Diálise Crônica 2019. Braz. J. Nephrol. (J. Bras. Nefrol.) 2021; 43(2):217-27.
Vanellia CP, Freitas EB, Bastos KV, Ferreira GF. Excesso de peso em portadores de doença renal crônica candidatos a transplante renal. Ciência&Saúde. 2017;10(3): 127-32.
Pretto CR, Winkelmann ER, Hildebrant LM, Barbosa DA, Colet CF, Stumm EMF. Qualidade de vida de pacientes renais crônicos em hemodiálise e fatores relacionados. Rev. Latino-Am. Enfermagem. 2020; 28: e3327: 1-11.
World Health Organization. Physical status. The use and interpretation of anthropometry. Report of a WHO Expert Committee. Geneva, 1995.
Frisancho AR. Anthropometric Standards for the Assessment of Growthand Nutritional Status. Ann Arbor, Michigan: Universit of Michigan Press, 1990.
Blackburn GL, Thornton PA. Nutritional assessment of the hospitalized patients. Med Clin North Am. 1979; 63(5): 1103-15.
WORLD HEALTH ORGANIZATION. Obesity: preventing and managing the global epidemic. WHO Technical Report Series, Geneva, n. 894, 1998.
Schlussel MM, Anjos LA, Vasconsellos MTL, Kac G. Reference values of handgrip dynamometry of healthy adults: a population-based study. Clin. Nutr. 2008; 27(4): 601-607.
Cruz-jentoft AJ, Landi F, Schneider SM,Zúñiga C, Arai H, Boirie Y,
et al. Prevalence of and interventions for sarcopenia in ageing adults: a systematic review. Report of the International Sarcopenia Initiative (EWGSOP and IWGS). Age Ageing. 2014; 43(6): 748-59.
Hays RD, Kallich JD, Mapes DL, Coons SJ, Amin N, Carter WB et al. Kidney Disease Quality of Life Short Form (KDQOL – SF™), Version 1.3: A Manual for Use and Scoring. RAND. 1997.
Gonçalves MA, Silva PFOA, Cavalcanti DCF, Santos LGC, Paiva ACM, Melo HCM, et al. Associação entre estado nutricional, perfil lipídico e adequação dialítica de pacientes submetidos a hemodiálise. BrazilianJournalofDevelopment. 2021; 7(4): 35664-35679.
Bernardo MF, Santos EM, Cavalcanti MCF, Lima DSC. Estado nutricional e qualidade de vida de pacientes em hemodiálise. Medicina (Ribeirão Preto. Online). 2019; 52(2):128-35.
Brasil. Ministério da Saúde. Secretaria de Vigilância em Saúde. Departamento de Análise em Saúde e Vigilância de DoençasNãoTransmissíveis. Vigitel Brasil 2019: vigilância de fatores de risco e proteção para doençascrônicas por inquéritotelefônico: estimativas sobre frequência e distribuiçãosociodemográfica de fatores de risco e proteção para doençascrônicas nas capitais dos 26 estados brasileiros e no Distrito Federal em 2019. 2020. Brasília: Ministério da Saúde.
Garcia PA, Dias JMD, Rocha ASS, Almeida NC, Macedo OG, Dias RC. Relação da capacidade funcional, força e massa muscular de idosas com osteopenia e osteoporose. FisioterPesq. 2015; 22(2):126-32.
Postorino M, Marino C, Tripepi G, Zoccali C. CREDIT (Calabria Registry of Dialysis and Transplantation) Working Group. Abdominal obesity and all-cause cardiovascular mortality in end-stage renal disease. J Am Coll Cardiol. 2009; 53(15):1265-72.
Pinto AP, Ramos CI, Meireles MS, Kamimura MA, Cuppari L. Impacto da sessão de hemodiálise na força de preensão manual. Braz. J. Nephrol. (J. Bras. Nefrol.) 2015; 37(4):451-57.
Sabatino A, Cuppari L, Stenvinkel P, Lindholm B, Avesani CM. Sarcopenia in chronic kidney disease: what have we learned so far? Journal of Nephrology. 2021; 34: 1347–72.
Coelho PEFS, Gomes FAR, Neves CVB, Alves NEG. Perfil dos parâmetros bioquímicos em pacientes com doença renal crônica submetidos à hemodiálise. Ágora. 2018; (1): 62-74.
Manete M, Thóme FS, Manfro RC. Reprodutibilidade dos Parâmetros de Adequação da Hemodiálise Crônica. Braz. J. Nephrol. (J. Bras. Nefrol.) 2004; 26(4): 181-89.
Hayashi T, Nagamatsu T, Matsushita A, Mizuno T, Nishibe S, Noguchi A. Comparison between Long and Short-Acting Erythropoiesis-Stimulating Agents in the Period Required for HaemoglobinStabilisation in Treatment of Anaemia in Patients with Chronic Kidney Disease. Biol Pharm Bull. 2015; 38(5): 740-5.
Silva MR, Moura, LMS, Barjud, LLE, Batista GS, Filho MLS. Qualidade de vida de pacientes renais crônicos submetidos á hemodiálise: Uma revisão integrativa. Braz. J. Hea. Rev. 2020; 3(4): 9344-74.
Oliveira APB, Schmidt DB, Amatneeks TM, Santos JC, Cavallet LHR, et al. Qualidade de vida de pacientes em hemodiálise e sua relação com mortalidade, hospitalizações e má adesão ao tratamento. Braz. J. Nephrol. (J. Bras. Nefrol.) 2016; 38(4): 411-20.
Bohlke M, Nunes DL, Marini SS, Kitamura C, Andrade M, Von-Gysel MP. Predictors of quality of life among patients on dialysis in southern Brazil. Sao Paulo Med. J. 2008; 126(5): 252-6.
ABSTRACT
Franco C, Zatta TL, Vasconcelos P, Alves BM, Santana SJR, Oliveira, RLF. Avaliação da qualidade de vida de portadores de insuficiência renal crônica em diálise renal. Enfermería global. 2011; (23): 165-71.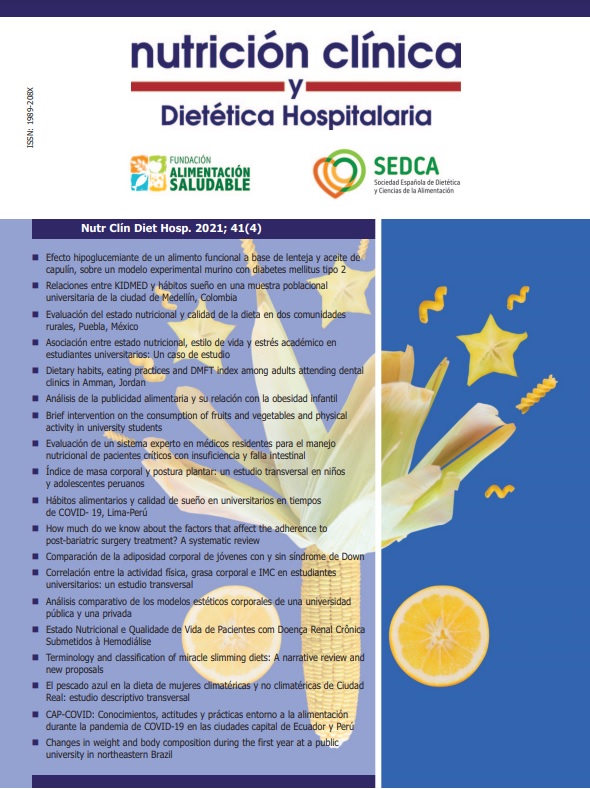 Descargas
Cómo citar
Virgínia Rodrigues dos Santos, M., Rêgo Barros Figueiredo, R. ., Victor Pedroza de Alcântara, R., Siqueira de Almeida, S. ., Neves de Morais, C., & Lira de Melo, M. C. A. (2022). Estado nutricional y calidad de vida de pacientes con enfermedad renal crónica en hemodiálisis: Estado nutricional y calidad de vida . Nutrición Clínica Y Dietética Hospitalaria, 41(4). https://doi.org/10.12873/414virginia
Sección
Artículos originales
Licencia
Derechos de autor 2021 Nutrición Clínica y Dietética Hospitalaria
Esta obra está bajo una licencia internacional Creative Commons Atribución-NoComercial-SinDerivadas 4.0.
Los lectores pueden utilizar los textos publicados de acuerdo con la definición BOAI (Budapest Open Access Initiative)