Sedentarismo y patrones alimentarios no saludables en la antropometria de niños del milenio peruanos 2009-2016.
Sedentarismo y nutrición en Perú.
Palabras clave:
Conducta sedentaria, conducta alimentaria, sobrepeso, obesidad.
Resumen
Introducción: el sedentarismo y mantener patrones alimentarios no saludables influyen en la antropometría a largo plazo. Objetivos: Asociar patrones alimentarios no saludables y estilo de vida sedentario en el desarrollo de sobrepeso (SP) y obesidad (OB) e incremento de índice de masa corporal (IMC), en adolescentes y jóvenes del estudio Niños del Milenio en Perú entre 2009 y 2016. Material y métodos: Investigación observacional analítica, de cohortes retrospectivo realizado en 598 adolescentes y 1860 niños, se realizaron modelos bivariados y multivariados para estudiar los factores de exposición y el desarrollo de SP, OB y variación en el índice de masa corporal (IMC). Resultados: El consumo frecuente de comidas no saludables es factor de riesgo (FR) para SP, mientras que el de bebidas no saludables fue FR para SP y OB, el consumo del desayuno es factor protector (FP) para SP y OB, la cena fue FP para SP, realizar actividad física es FP para SP y OB. Discusión: La actividad física periódica protege frente al SP y OB aún en poblaciones que sean sedentarias y presenten patrones alimentarios no saludables. Conclusiones: Mantener patrones alimentarios no saludables incrementa el riesgo de exceso de peso y realizar actividad física de al menos 30 minutos diarios protege frente a SP y OB.
Citas
BIBLIOGRAFÍA
Young lives. Growth and Nutrition : Preliminary Findings from the 2016 Young Lives. 2018;2009(January):5–8.
Tarqui-Mamani C, Alvarez-Dongo D, Espinoza-Oriundo P, Sanchez-Abanto J. Análisis de la tendencia del sobrepeso y obesidad en la población peruana. Rev Esp Nutr Humana y Diet. 2017;21(2):137–47.
Chávez JEV. Prevalencia de sobrepeso y obesidad en el Perú. Rev Peru Ginecol y Obstet. 2017;63(4):593–8.
Liberali R, Del Castanhel F, Kupek E, Assis MAA De. Latent Class Analysis of Lifestyle Risk Factors and Association with Overweight and/or Obesity in Children and Adolescents: Systematic Review. Child Obes. 2021;17(1):2–15.
Ahmad A, Zulaily N, Shahril MR, Syed Abdullah EFH, Ahmed A. Association between socioeconomic status and obesity among 12-year-old Malaysian adolescents. PLoS One. 2018;13(7):1–11.
Bai Y, Chen S, Laurson KR, Kim Y, Saint-Maurice PF, Welk GJ. The associations of youth physical activity and screen time with fatness and fitness: The 2012 NHANES national youth fitness survey. PLoS One. 2016;11(1):1–13.
Chen J, Luo S, Liang X, Luo Y, Li R. The relationship between socioeconomic status and childhood overweight / obesity is linked through paternal obesity and dietary intake : a cross-sectional study in Chongqing , China. Chen al Environ Heal Prev Med. 2021;26(56):1–14.
Sbaraini, M., Cureau, F., Ritter, J., Schuh, D., Madalosso, M., Zanin, G., Schaan B. Prevalence of overweight and obesity among Brazilian adolescents over time, a systematic review and meta‑analysis.pdf. Nutr salud pública. 2021;1–27.
Leme ACB, Ferrari G, Fisberg RM, Kovalskys I, Gómez G, Cortes LY, et al. Co‐occurrence and clustering of sedentary behaviors, diet, sugar‐sweetened beverages, and alcohol intake among adolescents and adults: The latin american nutrition and health study (elans). Nutrients. 2021;13(6):1–17.
Petrovics P, Sandor B, Palfi A, Szekeres Z, Atlasz T, Toth K, et al. Association between obesity and overweight and cardiorespiratory and muscle performance in adolescents. Int J Environ Res Public Health. 2021;18(1):1–10.
Blanco M, Solano S, Alcántara AI, Parks M, Román FJ, Sepúlveda AR. Psychological well-being and weight-related teasing in childhood obesity: a case–control study. Eat Weight Disord. 2020;25(3):751–9.
Yerges AL, Snethen JA, Carrel AL. Adolescent Girls With Overweight and Obesity Feel Physically Healthy and Highlight the Importance of Mental Health. SAGE Open Nurs. 2021;7:1–8.
Gui ZH, Zhu YN, Cai L, Sun FH, Ma YH, Jing J, et al. Sugar-sweetened beverage consumption and risks of obesity and hypertension in chinese Children and adolescents: A national cross-sectional analysis. Nutrients. 2017;9(12):1–14.
Albataineh SR, Badran EF, Tayyem RF. Dietary factors and their association with childhood obesity in the Middle East: A systematic review. Nutr Health. 2019;25(1):53–60.
Navti LK, Atanga MB, Niba LL. Associations of out of school physical activity, sedentary lifestyle and socioeconomic status with weight status and adiposity of Cameroon children. BMC Obes. 2017;4(1):1–9.
Di Cesare M, Sorić M, Bovet P, Miranda JJ, Bhutta Z, Stevens GA, et al. The epidemiological burden of obesity in childhood: A worldwide epidemic requiring urgent action. BMC Med. 2019;17(1):1–20.
Carrillo-Larco RM, Miranda JJ, Bernabé-Ortiz A. Wealth index and risk of childhood overweight and obesity: evidence from four prospective cohorts in Peru and Vietnam. Int J Public Health. 2016;61(4):475–85.
Movassagh EZ, Baxter-Jones ADG, Kontulainen S, Whiting S, Szafron M, Vatanparast H. Vegetarian-style dietary pattern during adolescence has long-term positive impact on bone from adolescence to young adulthood: A longitudinal study. Nutr J. 2018;17(1):1–10.
Siervo M, Gan J, Fewtrell MS, Cortina-Borja M, Wells JCK. Acute effects of video-game playing versus television viewing on stress markers and food intake in overweight and obese young men: A randomised controlled trial. Appetite. 2018;120:100–8.
Morrow V. A Guide to Young Lives Research. 2017;(May):1–46.
Seager JR, de Wet T. Establishing large panel studies in developing countries: the importance of the 'Young Lives' pilot phase [Internet]. University of Oxford, editor. University of Oxford; 2003. 1–28 p. Available from: https://ora.ox.ac.uk/objects/uuid:bc32960a-c6b9-4e2a-9604-9b6cd8197946
Ma X, Chen Q, Pu Y, Guo M, Jiang Z. Obesity Research & Clinical Practice Skipping breakfast is associated with overweight and obesity : A systematic review and meta-analysis. Obes Res Clin Pract. 2020;14(1):1–8.
van Ekris E, Altenburg TM, Singh AS, Proper KI, Heymans MW, Chinapaw MJM. An evidence-update on the prospective relationship between childhood sedentary behaviour and biomedical health indicators: a systematic review and meta-analysis. Obes Rev. 2016;17(9):833–49.
Askari M, Heshmati J, Shahinfar H, Tripathi N, Daneshzad E. Ultra-processed food and the risk of overweight and obesity: a systematic review and meta-analysis of observational studies. Int J Obes. 2020;44(10):2080–91.
Alviso-Orellana C, Estrada-Tejada D, Carrillo-Larco RM, Bernabé-Ortiz A. Sweetened beverages, snacks and overweight: Findings from the Young Lives cohort study in Peru. Public Health Nutr. 2018;21(9):1627–33.
Agustina R, Nadiya K, El Andini A, Setianingsih AA, Sadariskar AA, Prafiantini E, et al. Associations of meal patterning, dietary quality and diversity with anemia and overweight-obesity among Indonesian schoolgoing adolescent girls in West Java. PLoS One. 2020;15(4):1–19.
Debeila S, Modjadji P, Madiba S. High Prevalence of Overall Overweight/obesity and Abdominal Obesity Amongst Adolescents: An Emerging Nutritional Problem in Rural High Schools in Limpopo Province, South Africa. African J Prim Heal Care Fam Med. 2021;13(1):1–9.
Bernabe-Ortiz A, Carrillo-Larco RM. Longitudinal association between food frequency and changes in body mass index: a prospective cohort study. BMJ Open. 2020;10(9):e037057.
Angulo Guerra, Cecilia Inés, Morales Rivera X. Frecuencia de alimentación y su relación con el sobrepeso y obesidad . Análisis transversal en adolescentes peruanos del estudio internacional Niños del Milenio . Repos UPC [Internet]. 2017;1–44. Available from: https://repositorioacademico.upc.edu.pe/handle/10757/622717
Wilding S. et al. Are environmental area characteristics at birth associated with overweight and obesity in school-aged children? Findings from the SLOPE (Studying Lifecourse Obesity PrEdictors) population-based cohort in the south of England. BMC Med. 2020;18(1):1–13.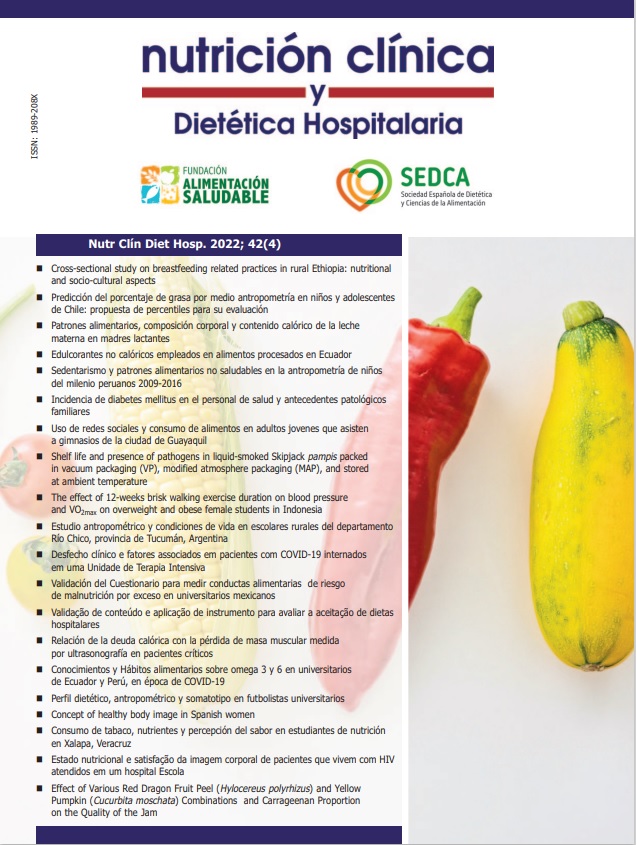 Descargas
Cómo citar
CENTENO-LEGUIA, D., ANGO-BEDRIÑANA , J. ., & MEJÍA, C. R. . (2022). Sedentarismo y patrones alimentarios no saludables en la antropometria de niños del milenio peruanos 2009-2016.: Sedentarismo y nutrición en Perú. Nutrición Clínica Y Dietética Hospitalaria, 42(4). https://doi.org/10.12873/424centeno
Sección
Artículos originales
Licencia
Derechos de autor 2022 Nutrición Clínica y Dietética Hospitalaria
Esta obra está bajo una licencia internacional Creative Commons Atribución-NoComercial-SinDerivadas 4.0.
Los lectores pueden utilizar los textos publicados de acuerdo con la definición BOAI (Budapest Open Access Initiative)