La bromelina y su aplicación terapéutica antiinflamatoria en humanos: una revisión de alcance.
Palabras clave:
Bromelina, Nutrición, Uso clínico, Inflamación, antiinflamatorio
Resumen
La piña es el nombre común de Ananas comosus Merr (syns. A. sativus, Ananassa sativa, Bromelia ananas, B. comosa), se ha utilizado a lo largo del tiempo como remedio para curar diferentes padecimientos.
     Estudios in-vivo e in-vitro han demostrado eficacia terapéutica antiinflamatoria por medio de la eliminación de moléculas de la superficie celular, disminución de niveles de plasmaquininas, inhibidor de prostaglandinas, citocinas proinflamatorias, además que aumenta la permeabilidad tisular mediante fibrinólisis y promueve la reabsorción del líquido de edema en la circulación sanguínea.
      En la presente revisión se recopilaron artículos sobre bromelina y su actividad antiinflamatoria en humanos, basado en los criterios para el reporte de revisiones de alcance: PRISMA (Preferred Reporting Items for Systematic Reviews and Meta-Analyses). Tiene como objetivo describir dosis terapéuticas que tengan un efecto antiinflamatorio en humanos, lo anterior favorecería en la disminución de estancia hospitalaria, sintomatología y costos en los tratamientos. 
Citas
Maurer HR. Bromelain: Biochemistry, pharmacology and medical use. Cell Mol Life Sci. 2001;58(9):1234-1245. doi:10.1007/PL00000936
Ramli ANM, Aznan TNT, Illias RM. Bromelain: from production to commercialisation: Bromelain: from production to commercialisation. J Sci Food Agric. 2017;97(5):1386-1395. doi:10.1002/jsfa.8122
Pavan R, Jain S, Shraddha, Kumar A. Properties and Therapeutic Application of Bromelain: A Review. Biotechnol Res Int. 2012;2012:1-6. doi:10.1155/2012/976203
Ghensi P, Cucchi A, Bonaccorso A, et al. In Vitro Effect of Bromelain on the Regenerative Properties of Mesenchymal Stem Cells: J Craniofac Surg. 2019;30(4):1064-1067. doi:10.1097/SCS.0000000000004862
Rathnavelu V, Alitheen NB, Sohila S, Kanagesan S, Ramesh R. Potential role of bromelain in clinical and therapeutic applications. Biomed Rep. 2016;5(3):283-288. doi:10.3892/br.2016.720
Amini A, Morris DL, Masoumi-Moghaddam S, Springer International Publishing. Utility of Bromelain and N-Acetylcysteine in Treatment of Peritoneal Dissemination of Gastrointestinal Mucin-Producing Malignancies.; 2016. Accessed March 24, 2021. https://doi.org/10.1007/978-3-319-28570-2
Muhammad ZA, Ahmad T. Therapeutic uses of pineapple-extracted bromelain in surgical care - A review. JPMA J Pak Med Assoc. 2017;67(1):121-125.
de Souza GM, Fernandes IA, Dos Santos CRR, Falci SGM. Is bromelain effective in controlling the inflammatory parameters of pain, edema, and trismus after lower third molar surgery? A systematic review and meta-analysis. Phytother Res PTR. 2019;33(3):473-481. doi:10.1002/ptr.6244
Rojas Montoya W, Aristizábal B, Beatriz, et al. Inmunología de Rojas.; 2015. Accessed April 17, 2021. http://www.ebooks7-24.com/?il=1359
Heaton LE, Davis JK, Rawson ES, et al. Selected In-Season Nutritional Strategies to Enhance Recovery for Team Sport Athletes: A Practical Overview. Sports Med. 2017;47(11):2201-2218. doi:10.1007/s40279-017-0759-2
González MC, González AAP. La inflamación desde una perspectiva inmunológica: desafío a la Medicina en el siglo XXl. Rev Habanera Cienc Médicas. 2019;18(1):30-44.
Fitzhugh DJ, Shan S, Dewhirst MW, Hale LP. Bromelain treatment decreases neutrophil migration to sites of inflammation. Clin Immunol Orlando Fla. 2008;128(1):66-74. doi:10.1016/j.clim.2008.02.015
Maurer HR. Bromelain: biochemistry, pharmacology and medical use: Cell Mol Life Sci. 2001;58(9):1234-1245. doi:10.1007/PL00000936
Oh-ishi S, Uchida Y, Ueno A, Katori M. Bromelain, a thilprotease from pineapple stem, depletes high molecular weight kininogen by activation of Hageman factor (factor XII). Thromb Res. 1979;14(4):665-672. doi:10.1016/0049-3848(79)90121-X
Smyth RD, Brennan R, Martin GJ. Systemic biochemical changes following the oral administration of a proteolytic enzyme, bromelain. Arch Int Pharmacodyn Ther. 1962;136:230-236.
Kasemsuk T, Saengpetch N, Sibmooh N, Unchern S. Improved WOMAC score following 16-week treatment with bromelain for knee osteoarthritis. Clin Rheumatol. 2016;35(10):2531-2540. doi:10.1007/s10067-016-3363-1
Zarandi A, Faramarzi M, Kashefi-Mehr A, Ataie A, Rahbar M. Efect of Anaheal (Bromelain) Drug on the Periodontal Clinical Indices in Nonsurgical Periodontal Treatment of Patients with Chronic Periodontitis. Pesqui Bras Em Odontopediatria E Clínica Integrada. 2018;18(1):1-9. doi:10.4034/PBOCI.2018.181.115
Sinurat PP, Sjahrir H, Rambe AS, Ganie RA. The Alteration of Plasma Matrix Metalloproteinase-9 Level after the Addition of Bromelin 500 mg to Standard Therapy of Acute Ischemic Stroke and Its Correlation with Outcome. Open Access Maced J Med Sci. 2018;6(4):624-628. doi:10.3889/oamjms.2018.151
Bormann KH, Weber K, Kloppenburg H, et al. Perioperative Bromelain Therapy after Wisdom Teeth Extraction - A Randomized, Placebo-Controlled, Double-Blinded, Three-Armed, Cross-Over Dose-Finding Study. Phytother Res PTR. 2016;30(12):2012-2019. doi:10.1002/ptr.5707
Müller S, März R, Schmolz M, Drewelow B, Eschmann K, Meiser P. Placebo-controlled randomized clinical trial on the immunomodulating activities of low- and high-dose bromelain after oral administration - new evidence on the antiinflammatory mode of action of bromelain. Phytother Res PTR. 2013;27(2):199-204. doi:10.1002/ptr.4678
Ley CM, Ni Q, Liao X, Gao HL, Robinson N. Bromelain and cardiovascular risk factors in diabetes: An exploratory randomized, placebo controlled, double blind clinical trial. Chin J Integr Med. 2016;22(10):728-737. doi:10.1007/s11655-016-2521-2
Tan Y, Li P. Bromelain has significant clinical benefits after extraction of the third molar during chemotherapy in patients with hematologic tumor. Oncol Lett. 2018;15(3):2962-2966. doi:10.3892/ol.2017.7673
Eslami H, Yazdani J, Khorshidi-Khiyavi R, et al. Effect of Supplementary Administration of Anaheal on Reducing Pain, Swelling and Trismus after Mandibular Third Molar Surgery: A Splitmouth Controlled Randomized Clinical Trial. Pesqui Bras Em Odontopediatria E Clínica Integrada. 2018;18(1):1-9. doi:10.4034/PBOCI.2018.181.79
de la Barrera-Núñez MC, Yáñez-Vico RM, Batista-Cruzado A, Heurtebise-Saavedra JM, Castillo-de Oyagüe R, Torres-Lagares D. Prospective double-blind clinical trial evaluating the effectiveness of Bromelain in the third molar extraction postoperative period. Med Oral Patol Oral Cirugia Bucal. 2014;19(2):e157-162. doi:10.4317/medoral.19105
Inchingolo F, Tatullo M, Marrelli M, et al. Clinical trial with bromelain in third molar exodontia. Eur Rev Med Pharmacol Sci. 2010;14(9):771-774.
Krieger Y, Rubin G, Schulz A, et al. Bromelain-based enzymatic debridement and minimal invasive modality (mim) care of deeply burned hands. Ann Burns Fire Disasters. 2017;30(3):198-204.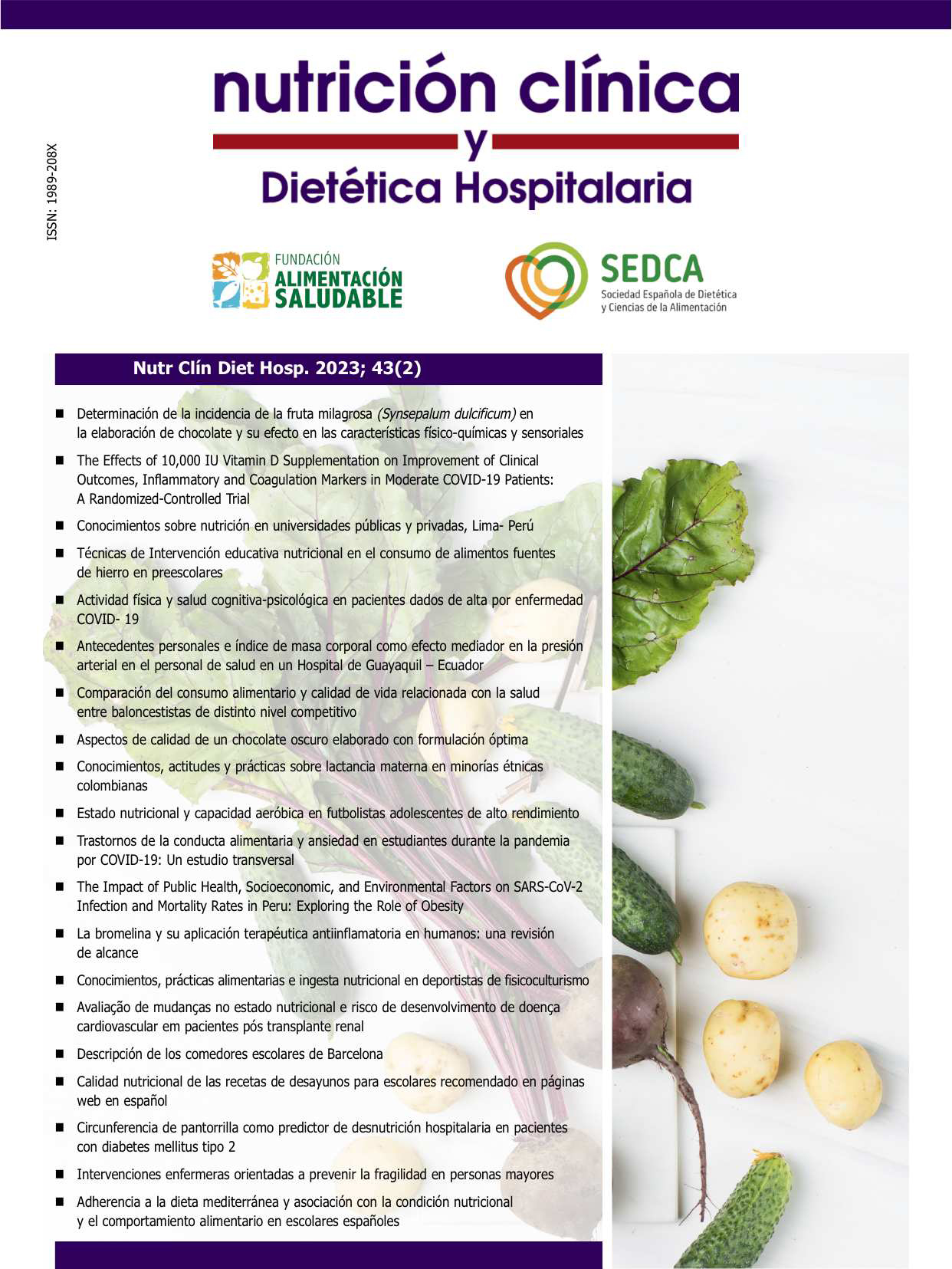 Descargas
Cómo citar
ACOSTA FLORES, A., CASTELLANOS ESPINOSA, A., MARTÍNEZ RODRÍGUEZ, A., SÁNCHEZ PEÑA, M. A., LÓPEZ CAMARILLO, D., & MARTÍNEZ BAÉZ, A. Z. (2023). La bromelina y su aplicación terapéutica antiinflamatoria en humanos: una revisión de alcance. Nutrición Clínica Y Dietética Hospitalaria, 43(2). https://doi.org/10.12873/432martinez
Licencia
Derechos de autor 2023 Nutrición Clínica y Dietética Hospitalaria
Esta obra está bajo una licencia internacional Creative Commons Atribución-NoComercial-SinDerivadas 4.0.
Los lectores pueden utilizar los textos publicados de acuerdo con la definición BOAI (Budapest Open Access Initiative)